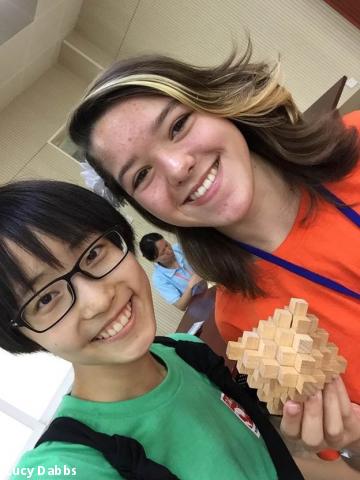 By: Lucy Dabbs, Georges P. Vanier Secondary School, participant of the 2017 Beijing International Education Exchange (BIEE) Summer Camp.
There was lots of extra time and I got talking to one of our instructors, who was actually only 17. He and his friends were from Beijing and were volunteering for this camp to gain more experience with international programs. They were planning on applying to English universities overseas and wanted something that would set them apart on their application. They explained to me that only a small percent of international students from Asia have a chance of getting into universities in the US and they have a lot of other Asian countries to compete against.
It was one of the conversations where I felt I had a look at the real China. They told me that while our big group of campers were visiting the main sights of Beijing, there was still a lot we weren't seeing. This I knew from my previous visit to China, because when I stayed with the family I got to experience day to day life from the perspective of a regular citizen. They told me about a street near the heart of Beijing that had bars and KTV, where a lot of young people liked to go.
They also described student life, the choices they make about international programs and studying abroad, and the stresses of exams. I think it seems very stressful to have one exam determine your future. The National Higher Education Entrance Examination, nicknamed the gaokao,is a standardized exam taken by all students wishing to go to post-secondary. The performance on this exam determines which Universities students will go to, or whether they will just go straight into the workforce.
I left the DNA classroom with a new perspective on students, and the struggle shared of making challenging life decisions. Of course, it's harder for some, whose families share different values. But all of us face the same time in our lives when we have to start deciding what we want to do with our adulthood, what path we want to take.
It is interesting to think, that in a class learning about how diverse we are through our unique DNA pairs, I learned how similar we all are. We may live with oceans between us, hundreds or thousands of years of diverse history behind us, but we're all living in the same world, right now in this moment. Being exposed to pop culture and media has connected the human race more than ever before in history. It is a fascinating time to be alive in.
After dinner that night we had another practice with the Canadians and to my surprise one American. Adom, from Houston school of performing and visual arts, was going to be our honorary Canadian rapper. We also had Nuha from Ottowa, singing in her beautiful voice, melodizing with Hannah. Also a special appearance from Hunter, from BC, and a  section dedicated for Jobeana to represent the aboriginal population of Canada, where our true history comes from.
The plan was beginning to fall into place. We started off singing the first few verses of the Canadian anthem, Nuha and Hannah in front with the rest of us silent in a semi-circle around them. All of a sudden Adom bursts through the Canadian flag being held up in the back, and starts a beatboxing beat. The whole group then bursts out into an upbeat chorus of O Canada, then transitions into a mashup of pop songs by Canadian artists. We also do a rendition of the Good Ol' hockey game, with some of us cheering in the stands while others pretend to score a goal in the net.
After a successful practice session, everyone's hopes were high and excited to showcase what we could do. On our way out of the practice space, some of the volunteer Chinese students stopped us to be interviewed on camera. I was asked to wish good luck to the graduating students of Beijing, who were about to take their gaokao exams. The prompter told me these exams were very important to them and their families, and it was a very stressful time. I was more than happy to say good luck in mandarin.
Later that night I was sitting with our Argentinian friends in a circle, sharing mate and talking about school back home. We were discussing how the different countries qualified to come to the camp, whether they had to interview or take an English test. They told me this was Argentina's first year being invited, and this was only the sixth year of the camp. It was fairly new, but they were still very strict about students being on their best behaviour. This was an important part of the communications between countries education systems, and China being able to showcase their country and give a different perspective on many of the stereotypes and prejudices people have about China. I realized even more then, how fortunate I was to be representing Canada and getting to share in this experience. Overall, a very productive, fulfilling day of learning in many different ways.