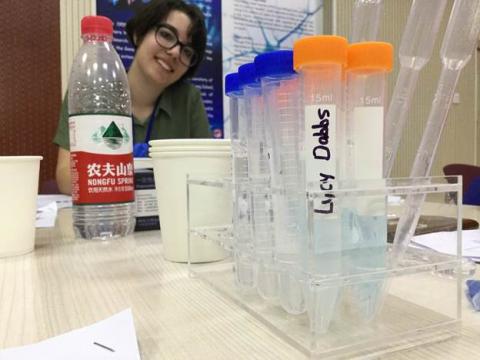 By: Lucy Dabbs, Georges P. Vanier Secondary School, participant of the 2017 Beijing International Education Exchange (BIEE) Summer Camp.
Deoxyribonucleic acid, the carrier of all genetic information, containing the fundamental characteristics that make us unique. Today, I stared at a clumpy white blob floating in a test tube of blue raspberry gatorade that was my DNA. I looked around the classroom at the other students examining their own white clumpy blobs,and smiled at this awesome opportunity within the Beijing Royal school. Today was a learning day.
Having the whole day to try different classrooms really allowed us to have more freedom with our day. We could choose to not go to class, take an always needed nap, have some down time, wander around the track with friends, or go to classes. It was pretty relaxed, the teachers didn't mind if you came to the class late, and most of the time they weren't full. In fact, most classes were taught by Chinese students who were participating in the camp.
There were 5 floors of activities, each floor with about 7 different courses offered. For the morning block I took the the tie dye class with some people from BC, then the Chinese Mortise-Tenon joint puzzles and Peking Opera face painting. In these classes I talked to lots of students about where they were from, including many of the Chinese student helpers.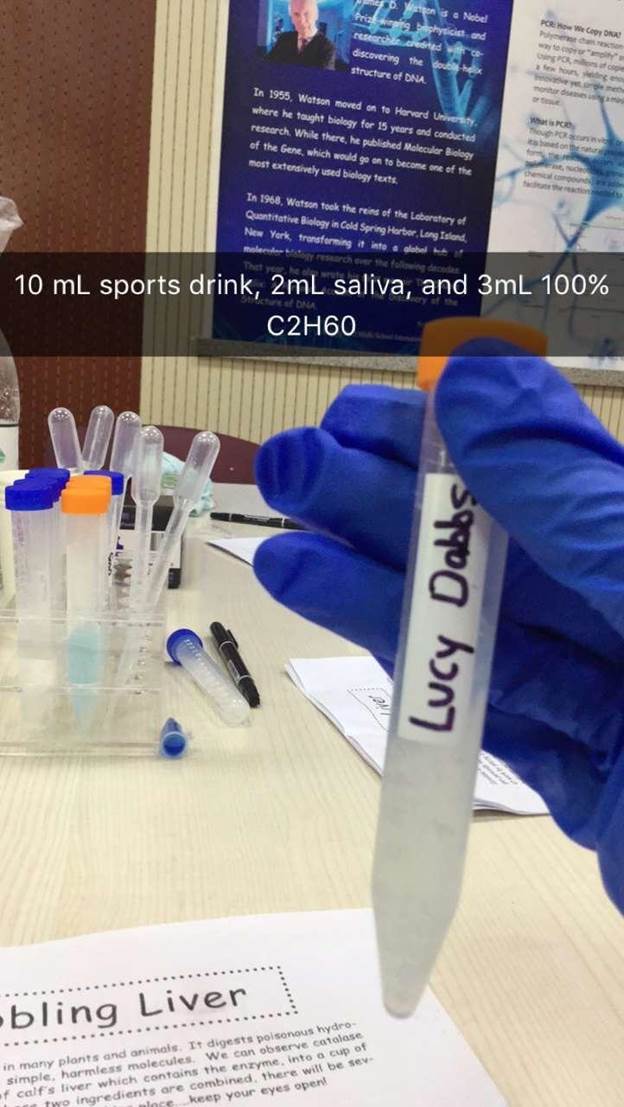 After lunch I got to go to the 3D printing and modelling class I'd been looking forward to. Here I reunited with my friends from the US I met back in my VR class. This was a very interesting class that really engaged the students and taught us numerous technical skills. It started off with a presentation, a movie mashup of Beauty and the Beast, Lord of the Rings, with Pirates of the Caribbean theme music. It was very well put together by the teachers.
A storyline was incorporated to give the class a task of making 3 parts that were needed to complete the quest. Two had to be 3D printed and then a bridge had to be made by a handheld 3D printing pen. My highschool back home has many 3D printers but I'd never had the chance to use the 3D printer pen before. It was really neat, and we also got a chance to create our own designs and experiment.
The last class I took was DNA analysis, and this is where my clumpy white blob floating in gatorade comes in. There were very few people in this class, so it went by quite quickly. We partnered up based on one of four letters we were given, thymine, guanine, cytosine, and adenine. Then we conversed with our partner to get to know them, and had some friendly competition games to win specimens of fruit DNA. My partner was my age, from Italy.
We learned a bit about DNA, that it is the blueprint of our life, with about 20 000 genes and 3 billion base pairs divided into 23 chromosomes. Then, we got to physically see our own DNA by completing an activity with gatorade. We combined 2mL of our saliva with 10mL of Gatorade, soap, and 3mL of 100% ethanol. After a few minutes the mixture separated out to reveal a white mass containing our own personal deoxyribonucleic acid.