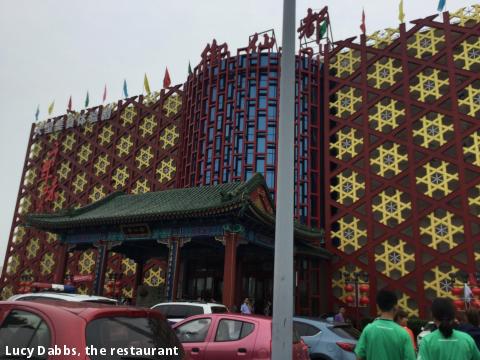 By: Lucy Dabbs, Georges P. Vanier Secondary School, participant of the 2017 Beijing International Education Exchange (BIEE) Summer Camp.
Following the commencement of the ceremony, the whole summer camp streams out and walks over to the parking area where 20 buses are waiting. I join Canada and find a seat on the bus, which I learn we are now sharing with a group from Texas school of performing arts.
These buses are tour bus style, with nice fabric individual seats in groups of two. I sit beside a Chinese student named Bunny, who explains to me that every bus has two or three groups, in addition to a handful of Chinese students who are on every bus. Bunny is open and friendly, and asks me questions about myself. She tells me we are on our way to a restaurant for lunch.
I'm glad I have a window seat for the drive to the restaurant, making many observations on the slight differences in traffic. I don't think it is as busy on the streets of Beijing as many people imagine it to be. It's not super congested, and many citizens ride bikes to do their errands. Children ride in the baskets on the front of bikes and few wear bike helmets. We pass a lot of green spaces, parks, trees, and hedges lining the sidewalks, seeming out of place among the grey sky.
I had been wondering how 777 students would fit in a restaurant, and my question is answered as we pull up to a massive 8 story building. I wonder why this restaurant is so massive but realize why as we walk in. I follow the mass of people through a maze of hallways, feeling as if I'd stepped into a museum. Lining the walls are display cases of old weapons, bowls, ceramics, and little setups of lifelike emperors eating at banquets.
We walk up 6 flights of stairs, down a white hallway and into a huge ballroom that seems fit for a wedding reception. Wall to wall are circular tables with hundreds of campers in their orange shirts, eating in their bus groups. It seems about a quarter of the students here are local Chinese students, in green shirts that make them easy to find for the purpose (I assume) of approaching if we have any questions.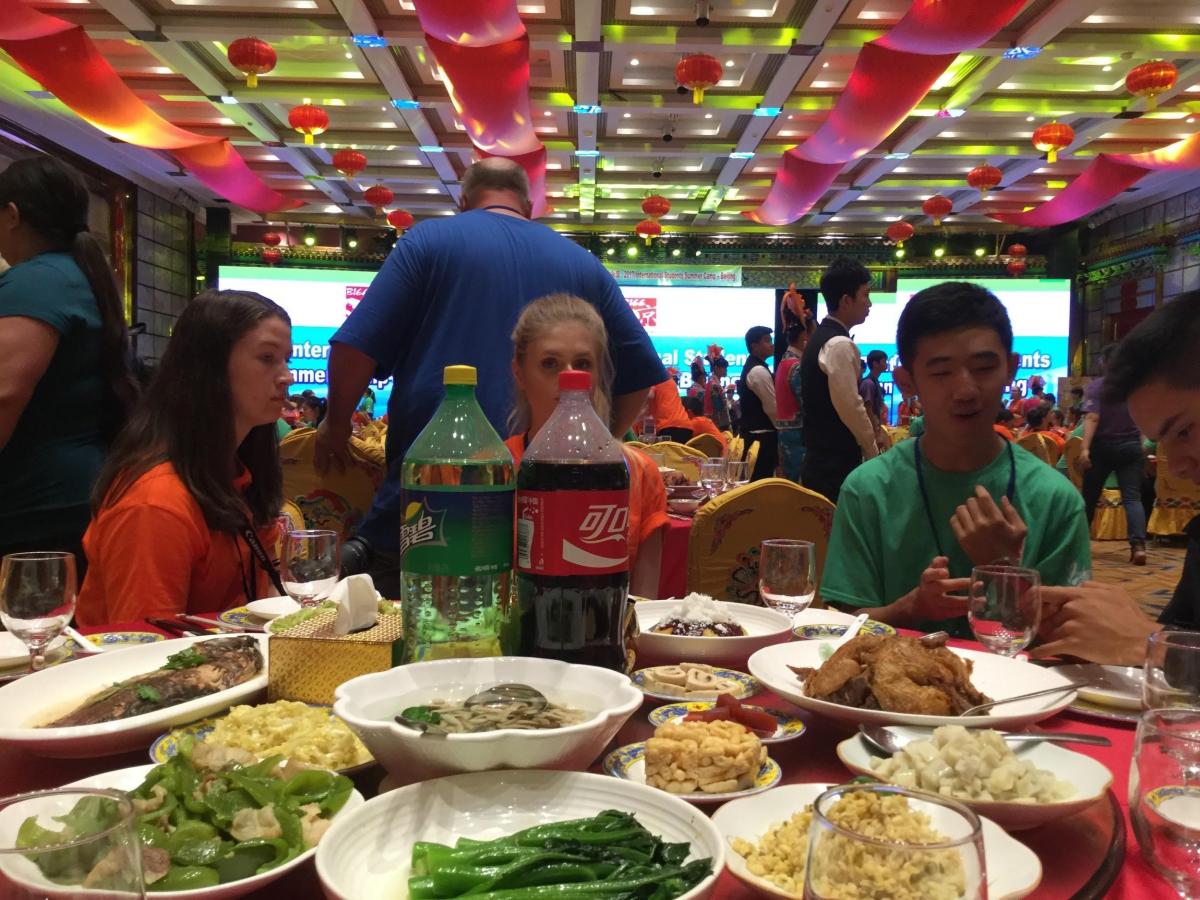 Bus 16 spreads itself between 3 tables, and I sit at the farthest one. On the table is a rotating circular glass disc covered with plates of Chinese food to serve ourselves.
It is now I should tell you that Chinese food is not the same Chinese food that you order with wooden chopsticks, or if you're like me you get it from Quality foods crammed into the aluminum containers. Some of this Chinese food looked alien, but some were recognizable. For example, noodles, rice, sweet and sour pork, wonton soup, and vegetable stir fries. I find that some of the dishes I try are, to put it politely, an acquired taste.
Duck blood is the only item I actually know the name for, the others I refer to as 'those mushy white things with what looks like mashed cranberries in the centre', and 'that pale meat with sauce that tastes like a combination of pulled pork sauce and some exotic cheese I've never tried but definitely know that it's cheese'. Let's just say the flavours are very interesting, and the sauces are not of the selection you'd find with the soy sauce packets in Quality Foods. If there was anything I'd learnt from my previous trip to China, I'd learned that if I wanted to try a new food it was best to just eat it, before asking what it was.
We watch more performances on stage while we eat, enjoying tasteful Chinese music and acrobatic displays to go with the tasteful Chinese food. The music is quite loud and screechy, the women's voices reaching octaves I don't even think the furthest right-hand keys of a piano have. I don't think that these women are dainty, they may have been petite but their aggression on the drum kits left the audience applauding for more. It may have been upturned metal bowls being played with wooden baking spoons, but the musicians were going all out like it was a drum kit in the KISS band, waving their hair all over the place and screaming like they were the loudest screamo song for a new teenage angst album. Though my ears were ringing by the end, I held much admiration for the performers.