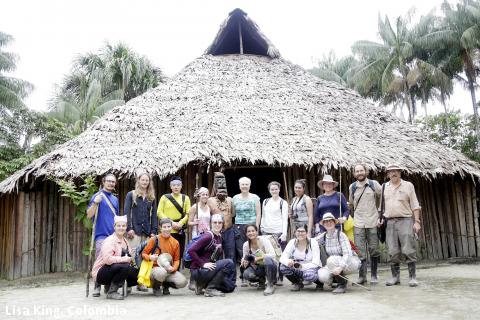 It is your first day back to school and you are getting acquainted with your new classes. Maybe it's your first year, maybe you have been doing this for a while. The excitement, nervousness and anticipation of what the semester has in store for you pulses though your veins. You mingle with new classmates and reconnect with the old ones, grab your syllabus and head towards the bookstore. Along the way you notice posters plastered to the walls in the halls. Need a tutor?, Great deal on a suite! and various varsity sport tryouts. You pass by them with mild interest, one by one, and join the long queue at the bookstore entrance. The wait is painfully long, you check your phone, shove it back in your bag, check it again and realize it's only been moments. You are given a moment of stillness, a moment where you take in the sounds of papers and chatter; the sight and energy of too many bodies in too little space.
In the chaos something catches your eye plastered next to the payphone. It's another poster, but this one has a beautiful photo of people standing in a rainforest. Above it, it reads: DSN 3000 Amazon Field School Summer 2016. Unbidden, your mind races to what it would be like to study in the rainforest. You've never been anywhere near Colombia but you 've heard all about the rainforest since you were a child. You think about the bugs and the snakes and the heat; the idea of studying abroad in an exotic locale excites you despite the pests. You shuffle up in line, falling deeper into your daydream. The image becomes clearer now; you can see the subtle colour differences in the leaves, and see the genuine smiles on all the students' faces. "I wonder what the food is like," you think to yourself. More questions fill your head and its all you can think about.
You catch yourself smiling and slip back into the noise of the lineup. You look at your list and start calculating the cost of this semester. Your shoulders droop and you sigh out loud. School is expensive enough as it is, there is no way you can save enough money for a trip to the Amazon by summer. You finish at the bookstore, go to seminars, and continue your other tasks for the day but you can't get that poster out of your head. It is calling you, you have to go; you have to find the funding, maybe scholarships and grants, and take the adventure
This scenario was essentially my personal experience before studying abroad. I had gone through 10 years of education before even considering that studying abroad was an option. Maybe I hadn't seen the right trip; Art History trips to Paris, Architecture trips to Greece, were all exciting, but nothing struck my core like the Amazon. The rainforest is the heart of the biosphere and its importance and connection to my discipline of study is vast.
Whether you're fresh from High School, or have seen some of the world already, studying abroad has the potential to drastically change your life. Each and every person walks away with something unique and with memories they will share and treasure for a lifetime. Personally, my experience has pushed me to want to give back; to go back with a greater purpose and return with more stories to tell. If you're not ready to take a trip yet, that's okay. Keep looking at those posters around school; you never know when one may pull you into an adventure of a lifetime.
By: Lisa King, a member of BCSA Writers in Residence team and former stories abroad scholarship recipient. Lisa is currently working as a photojournalist and is one of the most recent graduates of Kwantlen Polytechnic University in the Bachelor of Arts General Studies program. Her study focuses were in Fine Art, Creative Writing, Geography and Sociology.