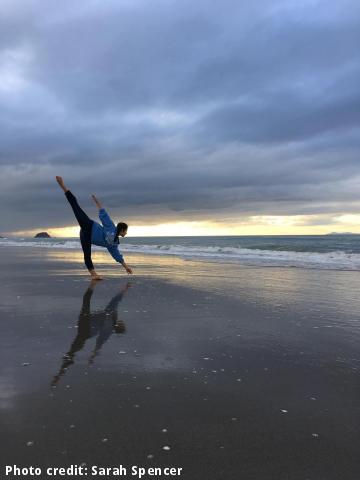 By: Charlotte Telfer-Wan, Simon Fraser University, winner of the BC Study Abroad: Stories from Abroad Scholarship
Study Abroad Destination: Auckland, New Zealand
In the beginning, I, Charlotte Telfer-Wan, had a plan. I wanted to know everything about contemporary dance. I wanted to figure out what dance is like around the world. I still do, but now, after my wonderful semester studying abroad in New Zealand, my outlook on dance and post-secondary study has changed.
Students study subjects that they are interested in enough to continue learning about for potentially, the rest of their careers. These subjects seem enclosed in the walls of the university, however even in an undergrad degree the mind is continuously searching for knowledge of the unknown in and outside of school. I major in contemporary dance and I thought that studying abroad would be a great opportunity to step into a new classroom and learn from teachers that have a different perspective on the subjects that I want to learn more about. I wasn't wrong. My semester abroad brought me a wealth of information according to contemporary dance, but this wasn't confined to the university. My lecturers at my exchange institution, the University of Auckland, fed me information that is valuable. Their perspective was different, but what changed the most was my own. Through this experience, I have also learned to reach out to new people and community that I am unfamiliar with. Being abroad has encouraged me to search for knowledge and cultural perspectives to supplement my university education.
I don't just study dance, I live it. Everything around me, my thoughts, experiences, and actions will contribute to myself as a dancer. It wasn't just the classes here in New Zealand that shaped my education in fine arts, it was the experiences of being in the world and taking opportunities that I had never considered before. These experiences have made me become more open-minded, collaborative, and an accepting person. Along with my new kiwi dance moves, and outlook on this kind of career, I would hope to be someone more desirable to work within the future and find more time to let the world educate me about myself.