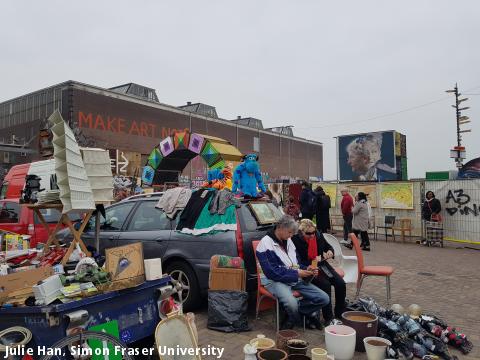 By Julie Han, Simon Fraser University, winner of the 2018 (Spring) Stories from Abroad Scholarship, member of the BC Study Abroad Writer in Residence Team
Study Abroad Destination: Amsterdam, The Netherlands
More than just humble taverns hiding down alleyways, and abandoned bicycles chained to post boxes, and gentle brick knolls stretching over canals, another critical feature of Amsterdam landscape is the smoke, more specifically the smokers. It's a completely true stereotype: languid, long-haired Europeans draped over stoops and street corners with zero deference for your low tolerance. My entire first month was filled with a lot of clumsy side-stepping, breath-holding, and side-eyeing.
While a dying practice in Canada and the US, especially among millennials, cigarettes continue to play an important part of social life in Amsterdam, especially in universities. After every class, you can bet on your classmates rushing outside for a cigarette. They're so well choreographed too. As soon as they see the doors, their hands slide into their pockets palming their packs and lighters, ready to roll. Some students actually rolled their own cigarettes during lectures, while making casual eye contact with the professors. Actually, most professors would discuss lectures and life over after class smokes too.
There was a clear delineation between the social circles of smokers and non-smokers, of Europeans and non-Europeans. So, cigarettes become a tempting social lubricant. And it's tempting to pick up new things in new places, in attempts to become a new person. While I never seriously considered cigarettes to acquaint myself better with my classmates and professors, I did develop some habits to adapt myself as a non-smoker for this particular social practice.
Anticipate butts, smoke, and smokers. Eventually, you will get used to the smoke; however, it's easier to acclimatize yourself if you anticipate your new environment.
Dress for the weather. Ultimately, studying and socializing in Europe with Europeans will require you, at the very least, to brave the cold with some smokers. And if you're not smoking, you're going to need to keep yourself even warmer.
Watch for the wind. If possible, look for a wind assistance. Whether you're walking, standing or dining al fresco, scan the smokers and watch for the wind.
Gum. Smoke, especially if you're not smoking, can be particularly nauseating. Arm yourself with extra-strong peppermint gum.