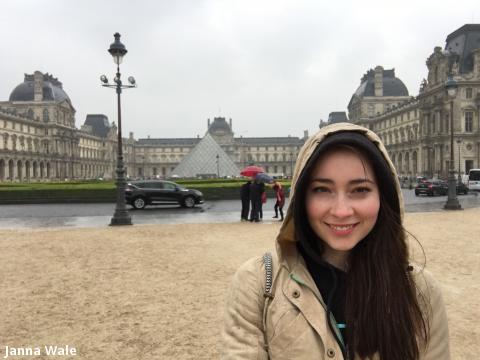 By Janna Wale, Thompson Rivers University, winner of the 2017 Stories from Abroad Scholarship and a member of the BC Study Abroad Writer in Residence Team.
Even though January 2018 will mark one year since I boarded a plane to begin my big adventure of living in Scotland, things that I learned while living overseas are still fresh in my mind. Having these past months to reflect on my experiences of spending four months living within another culture, I have come to the conclusion that it was an opportunity worth taking. I would not trade experiences for the dollars I had to spend to be in that moment. 
One of the biggest takeaways from my exchange would be the independence I gained, and the confidence I found while living away from my friends and family. In my opinion finding the courage to jump into an experience in another country offers the reward of an independence unlike any other.  You really have the chance to explore who you are and learn things about yourself in a situation that most people will never experience. I can confidently say (whereas pre-exchange I would have never said anything 'confidently') that I am more purposeful with my opinions, more assertive in social situations, and less afraid of the unknown. I am also more aware of what it really means to be self reliant, which has really helped me progress in both my personal and work life.
On the flipside, one thing that I wish I had taken more advantage of is the cheap flights in Europe. Seriously guys, I'm talking 8 euros from France to Spain if you book in advance. Having never been to Europe, I didn't know how affordable travel is and just how many countries are waiting to be explored. On my next trip abroad, I will definitely be exploring more and travelling further. I would encourage you to do your research into what interests you, and figure out a way to make it work. I can tell you being back in Canada is amazing, but I am already doing research into my next adventure now that I have the tools from my first trip abroad. 
I sincerely hope that wherever you may be off to, or wherever your life takes you, that my words and experiences will help you on your own journey and inspire you to just go for it.