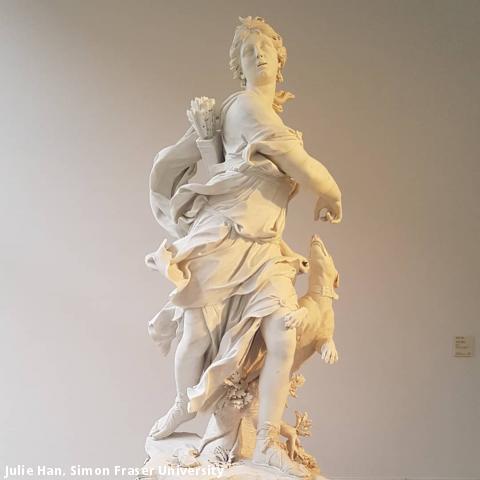 By Julie Han, Simon Fraser University, winner of the 2018 (Spring) Stories from Abroad Scholarship, member of the BC Study Abroad Writer in Residence Team
Study Abroad Destination: Amsterdam, The Netherlands
My high school economics teacher kept a chunk of the Berlin wall in his desk drawer. Of the many non-economics related lessons with which he blessed us, this literal piece of history served as a reminder of the importance of being there. And as someone who had quite honestly lived the majority of her life vicariously through richer strangers on the internet, I easily dismissed this lesson. I always felt the lesson never invest in an African amethyst mine to be much more poignant, and just as relevant.
But now that I was older and more disconnected, in more ways than one, my first trip outside of Amsterdam was Berlin with the sole intention of visiting the Berlin Wall, with the sole purpose of revisiting this lesson. So, there I was, standing in front of the Berlin Wall, watching dried paint, waiting for merits of this lesson to emerge from the murals like a magic eye. I watched as crowds of tourists waxed and waned, and as buskers shifted posts, but without any real methodology to my soul-searching, I just left. And I resorted to walking around Berlin until I found myself in front of the Bode Museum in the far corner of Museum Island.
Among the Renaissance statues of ancient Greek gods in a modern German museum, my sense of displacement became clearer and clearer. How could I understand the importance of being there if I couldn't understand where I was? You book a ticket to Germany expecting tall blondes in dirndls drinking beer, and instead you get hit with tourists, buskers, and a wall. And it's your job to make sense of it all.
Slow and silent, the importance of being there is the opportunity to replace your expectations of the perfect and the pure with experience of the real and the clear. No place and no person is perfect or pure, and it's ultimately a disservice to yourself to hold those expectations. As I moved on from place to place, I found layers and layers of these expectations peeling back, until I was satisfied with the simplicity of being there.