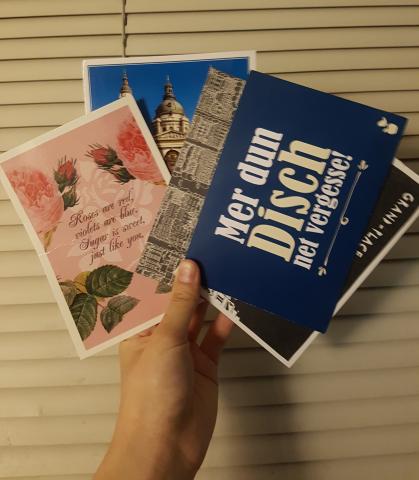 By Julie Han, Simon Fraser University, winner of the 2018 (Spring) Stories from Abroad Scholarship, member of the BC Study Abroad Writer in Residence Team
Study Abroad Destination: Amsterdam, The Netherlands
The truth is everybody wants a piece of you, or rather where you are. As soon as you announce your plans to study abroad, you'll find yourself drowning in endless requests for souvenirs eating away at your already slim budget. But, after months of actually being there, riding past kiosks of silly wooden shoes, sloppily painted ceramic, and tins of stale stroopwafel, I found myself increasingly resentful of these requests. In addition to my sad budget and suitcase space, none of these small tokens represented Amsterdam lived.
And while this may come across as incredibly melodramatic coming from a university student studying abroad in Europe, I endured a cliche amount of self-growth abroad, which was an incredibly laborious process -- something I refuse to diminish for the sake of humility over the internet. So, there I was in Europe, being poor and feeling melodramatic, in desperate need of souvenirs. Ultimately, I turned to a rather archaic, but extremely functional solution: postcards.
The arguments for postcards are as follows:
First, you don't have to carry them in your suitcase, the postal service does that for you. If they get lost in the mail, no worries; a card and a stamp costs maybe three euros, if you're generous. This also serves as a useful excuse for people you never really wanted to give souvenirs to anyway.
Second, they can be as intimate or as impersonal as you want, depending on what you write. However, I highly recommend utilizing drama.
Third, they actually represent a piece of the ordinary life of wherever you went, depending on wherever you purchased and posted the postcard.
Fourth, sometimes people send postcards back, which is a surprisingly satisfying experience! Also, exchanging postcards with friends abroad is an effective and meaningful way of keeping your friendships and travels going while never having to pack a bag.