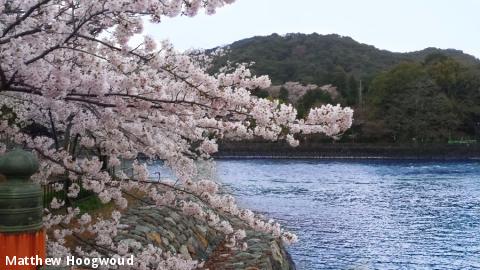 By: Matthew Hoogwoud, Kwantlen Polytechnic University, winner of the 2017 Stories from Abroad Scholarship.
"I'm terrified. I have never done something like this before!"
These were the thoughts that were rolling around in my mind during the twelve-hour flight to my exchange destination, Kyoto, Japan. It felt like the longest twelve hours that I have experienced in recent years as I sat nervously in my seat watching the on-screen map move incrementally towards Japan. I don't even know how to cook properly, I thought.
But I also could not wait to land and see Japan. Once the plane landed and I passed customs, I was greeted by a smiling face and a sign with my name. At that moment, I knew that I was going to be all right.
. . .
When I got settled into the dormitory, I went out to explore this new part of the world that I was in. The Kyoto-famous Fushimi Inari Shrine was only five minutes from my dorm. When I first saw the shrine, I knew that I wanted to climb the mountain behind the shrine during my time here. The location is incredibly busy during the day, so I went in the evening when I could explore more freely. Mid-way up the mountain I was already mesmerized by Kyoto's city lights that contrasted with the beautiful, deep black of the night sky. The sight at the top of the mountain is one that I will not forget. I remember standing on a rock and pausing to overlook the city, simply taking it all in.
There was one more item on my wish list that I wanted to see before my classes began: cherry blossoms. Cherry blossoms are only in full bloom for a brief period every spring and they are an amazing sight. During full bloom, I would trek to a new place every day to see them. I ventured around the city, enormous parks, along the river, and up a mountain. I had seen pictures of cherry blossoms before coming to Japan and always thought they were very beautiful. However, the genuine experience of seeing them first hand could never compare to pictures.
Reflecting back on the twelve-hour flight that brought me to Japan, I realized how much I have already changed. I have gained confidence in myself while navigating my way around this new city. Although, I am still learning how to cook properly.