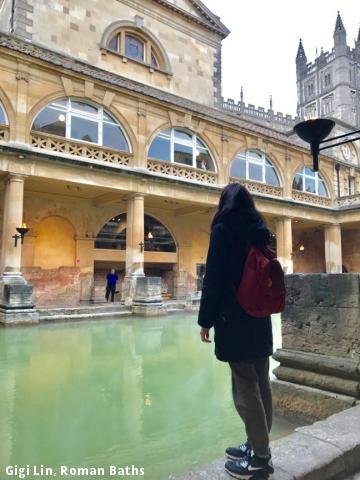 By Gigi Lin, Simon Fraser University, winner of the 2017 Stories from Abroad Scholarship.
How many undergraduates can say that they get the opportunity to have Europe at their fingertips and also study within a city famous for its baths? That's one of the many perks that come with enrolling in an exchange term, depending on where you decide to go. I'm proud to say that for the semester of Spring 2017, I will be a visiting student at the University of Bath in England. Yep, I haven't made a mistake in the name of the city in which I've become a semi-permanent resident of: Bath.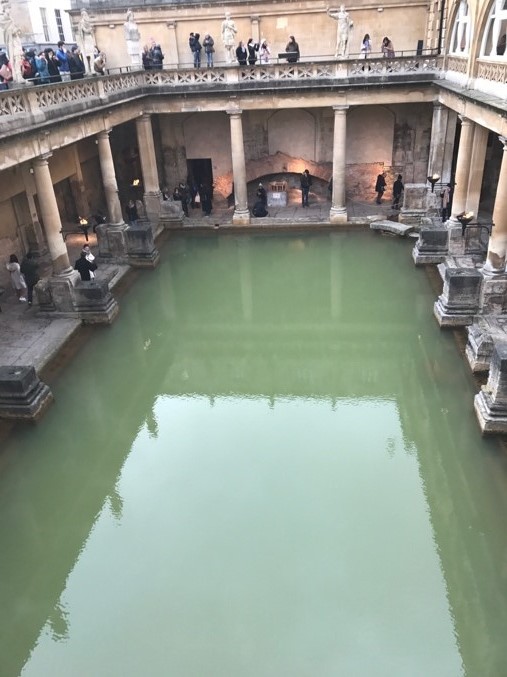 Here's a picture from smack center in the Roman Baths.
Bath is a city full of history, art, and culture. Students flock from all across the world to study here, with over 30% as international students; this only further denotes their strong reputation as a world-renowned leading School of Management within the United Kingdom. Though Bath is small in land size, I've heard great stories from past SFU exchange students about how you can spend days traversing through its many corridors (there are many winded streets that may lead you to somewhere new every time you take a step in), exploring the different borders that line the countryside and rolling hills, and stumbling upon a café or restaurant you've never laid your eyes on. Other than its status as a reputable host institution, I loved that it provided easy access to the other surrounding countries. Either by Chunnel (English Channel), rail, train, or plane, the cities of Europe are at your fingertips (literally, if you're ordering tickets online).
I've asked myself multiple times: are you sure you want to go on exchange? I've applied for and was accepted into exchange before (Spring 2016). In the end, I had decided to turn down the offer solely because I still felt that I was not ready. The second time around, I had spoken to multiple friends before deciding to reapply. It was one friend's advice that ultimately urged me to try again, which I had heard a few times previously, but had not stuck until that one day when I was told "I've never had a friend who has come back from exchange regreting the experience". I had always worried a lot about the financial burdens that may come with exchange; on whether I would be missing an academic term by coming back in the middle of the next academic term, or whether I would make friends; could I cook? There were countless worries that could have self-written 10 books or more. In the end, I realized that studying abroad would be a very valuable opportunity that I could not let pass me by again.
Yes, those worries still surface from time-to-time, but I have realized that if I do not step out and try something outside-of-the-box, will I ever reach beyond the confines in which I have built up for myself? I had always wanted to become a global citizen, someone who was strong in building cross-cultural relationships, able to work and play with the quirks that came with diversity and turn it into something powerful.
The preparation leading up to my departure was not easy. There are a lot of details you have to prepare for before you leave. If you do not, it will most certainly impact your access to financial funds, travel insurance, student discounts, enrollment in courses, etc. Though tedious and time-consuming, I am glad that I had allocated a few weeks to prepare before boarding my flight.
The following is advice I hope will help prospective students considering exchange:
It will definitely be one of the best times of your life. Though the transition may be difficult at first, the memories you build, the people you meet, the places you see, and most importantly- the personal growth you experience - will make those few months of your life feel like several fleeting moments; all making you want to return to and embark on those adventures once again.
If you're worried about the financial difficulties, definitely start applying and looking around for scholarships or bursaries early! I was lucky in that I kept finding new opportunities, and continued applying even in the last week before my departure.
Make sure you do your research before you leave! By checking early, you'll be able to grab multiple student discounts, deals, school trips (register early!), and unnecessary stress.
For students worrying about how to access funds (opening a bank account is not necessary!). Definitely check out CIBC's Prepaid Travel Visa (recently introduced). You're able to load (no fees) foreign currency such as GBP, EUR, USD, or MXN onto a visa, and use it without fees whenever you want (where Visa is accepted). This definitely reduces the worry of transaction fees and changing exchange rates. The rates at banks for foreign exchange aren't the greatest, but just stay up-to-date on the moving exchange rates and exchange when the time is right!
Try a language course if you're interested. I definitely found immersing myself in another nation's language fun as I was able to learn alongside domestic students (another great way to meet people!)
I believe studying abroad will not only define but also promote individual curiosity in enjoying the discovery of another country's culture across the world. It will make all that preparation and stress you endure leading up to that flight, more than worthwhile.