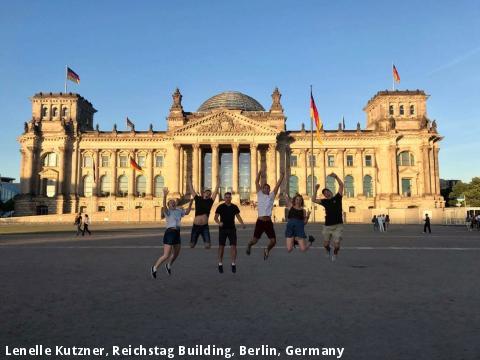 By: Lenelle Jordan Kutzner, University of Victoria, winner of the 2017 Stories from Abroad Scholarship.
Life after study abroad; it's almost as confusing as while you're away. I find when I'm returning from trips, I get in a mindset to go home. It becomes a peaceful bittersweet departure, as opposed to just bitter or just sweet. It's amazing to return to familiarity, be reunited with friends, and finally be still as opposed to constantly on the go. However, I found I was left with a 'what's next' feeling. I had a very acute awareness of what my life suddenly consisted of, or rather, didn't consist of. No school. No travelling. No job. Just me, myself, and all the still very fresh lessons, memories, and even regrets that may have surfaced. Travelling not only expands the mind; it expands the person. My experience in Germany helped me learn so much more than just German. I became more familiar with myself, my habits and my tendencies. I learned what my heart wants out of my life, and that I'm on the right path school-wise. It's funny how sometimes you have to travel halfway across the world to learn more about the one person you're always with: you.
One of the things I knew I would miss deeply about returning home was constantly hearing other languages and being surrounded by something other than English. I almost liked that I couldn't understand everything around me. It was a puzzle that I loved slowly piecing together. Fortunately, I landed a job as a server in the bustling downtown of Victoria during tourist season. Here I was able to use the broken language skills I have in French and Spanish, and my newly acquired (and still broken) language skills in German. The growth doesn't have to stop when you're done being abroad. You can still challenge yourself using your experiences from being away. My challenge was interacting in different languages, which means really putting yourself out there. I became more confident and less self-critical. I only regret the things I didn't do while I was away, never the ones I did. That mantra can be the same back home as well.
I will be embarking on another study abroad program, this time in Spain, so my wandering heart and mind can set out once again on a foreign journey. I can't picture what my life would be like without another study abroad opportunity so near in the future, or what it would be like without the one I just returned from.
Thanks so much for following my stories from abroad!
Sincerely,
Lenelle Kutzner