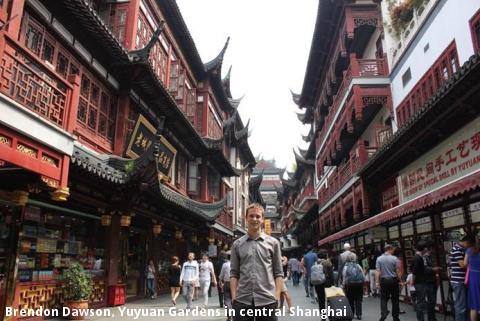 As a citizen of your own country, immigration procedures are something that you rarely have to think about; they exist for those who decide to come to your country, not those who already live in it. Studying abroad changes that assumption and introduces you to a completely foreign bureaucracy that you are often left to navigate alone. My arrival in China a month ago has certainly been a myriad of different challenges and new experiences but all have revolved around my quest to attain a residence permit.
The bureaucracy was a seemingly endless succession of forms, stamps, photos, and signatures all attained, received, and submitted to different offices, approval centres, and registration desks. This experience was certainly frustrating at first but then became comical as you realize you are one of many foreigners struggling with the same task. As you learn to deal with and navigate a foreign system as a team you realize that for the Chinese, this system is normal and although I am finding it frustrating it is my responsibility as a foreigner to adapt to their way of life - bureaucratic processes included. I think as a traveller you come to realize that adaptation begins with surrender and that success occurs when you realize there is a lot that you do not know.
I have had to concede the fact that most of the time I have no idea what is going on. Sometimes this is stressful but many times it allows you to remove the assumptions that you made in Canada about how things are done and start again fresh. When arriving in a new country the adjustment phase is real and very challenging, but when you succeed and inevitably see the red ink of your final stamp approving your permit you will feel such a sense of victory that makes it worth it. Life abroad presents a unique set of challenges that are only difficult because you don't know what you are doing. I have come to understand that asking for help, smiling, and a polite conversation are incredibly prudent ways to attaining your goal.
By: Brendon Dawson
Brendon is currently studying International Business at the Shanghai University of Finance and Economics under support of the Canada-China Scholar Exchange Program financed both by the Canadian Department of Foreign Affairs and the Chinese Government. He originally hails from Courtenay, British Columbia and completed his undergraduate degree at Queen's University in Ontario. Brendon has participated in exchange programs to France, Germany, Indonesia, and Japan and enjoys traveling, cooking, and has a peculiar interest in trains, locomotives, and public transit systems. He will be studying in Shanghai for one year before returning to his native British Columbia.
If you are in China or the Shanghai area please feel free to reach out to him by telephone or WeChat.
Contact:
+86-186-2157-1453
Wechat: brendonfdawson