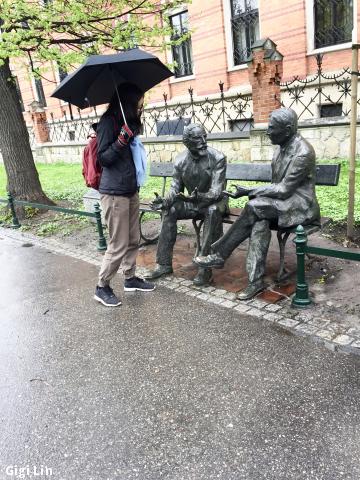 By Gigi Lin, Simon Fraser University, winner of the 2017 Stories from Abroad Scholarship and member of the BCSA Writer in Residence Team.
It's a pretty chilly winter this year. But with festivities and bright light exhibitions in each major city, this cold weather is made more bearable – especially with friends! In the beginning I thought of all the time in the world to curl up at home with a good book and some delicious hot chocolate. In hearing about friends and classmates' travel plans - it makes my mind wander back to when I would have weekends of itinerary set up, and excitement in planning them.
This winter break was perfect for some good moments of relaxation, but also the time for me to start applying for grad school. It has been awesome with exchange so fresh in my mind: the changes I've gone through as a student, an individual, and a prospective grad student. I know I want to pursue research in the field of financial economics, and also how much I enjoy studying in a small town. I want to follow my gut feeling in pursuing Economics and having spoke to several Professors at my University, I believe this will be a great next step.
Oh yeah! It's almost nearing the one-year mark of when I departed for exchange, these are some thoughts that I wish I had known, but is never too late to share with friends leaving for exchange next term (Bon Voyage!):
1) Keep a diary of daily memories
Although I somewhat have a snapshot of what happened every day in my photo album on my phone, writing down and reflecting on daily experiences is always a good idea. I had initially kept a log of whom I met that day, what foods I experimented making in my residence, what happiness I had encountered, and some things to remember (tips, advice, sayings, etc.). But when the adventures and travels started, I forgot to keep up with my logging of adventures! One of my closest friends from my home university wrote every day for the 4 months, and in going back and reading some of her/our adventures together, I kind of wished I had the same keepsake.
2) Inquire about the stories of those around you
You'll realize by being an exchange student and arriving in a foreign country/continent/part of the world, you're sure to feel lonely. Think about asking that stranger sitting the next table over in the café you've been writing your essay for 3 hours where they're from, how the weather's been treating you both, or even what they're working on. Travelling has really changed my mindset from "I believe" or "I want", to asking what others believe or are hoping to achieve.  
3) Know that it is okay to ask
Most likely, you won't know how to speak the language of 17/20 of the countries you take a plane to, but know that it is okay being vulnerable and asking for help. It also helped as I realized how generous strangers can be with their time and efforts, and that it is important to pay it forward. Don't forget your 'please' and 'thank-you's!'.
Exchange made me realize that I do not need much to have fun. Exchange taught me the value of having a good friend who looks out for me. Travelling taught me that I am braver and more adventurous than I had known. Lastly, travelling has shown me that the world is full of many more good people than bad. I'm thankful that in my fourth year I had exchange in my third year to teach me all this and more. I linger a bit too much on those 10,000+ photos and occasionally mind-wandering moments, but the present is now, and who I am is enough – but I can definitely become more. Cheers to 2017, and 2018 – I know you'll be even more spectacular!