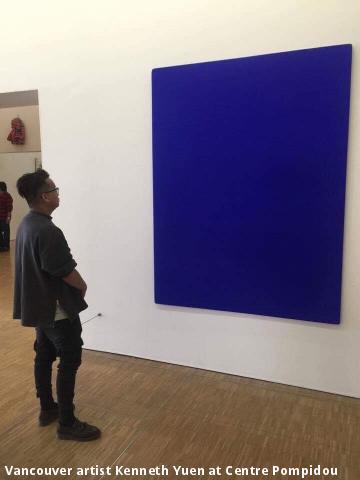 By Alice Wang, Kwantlen Polytechnic University, winner of the 2017 Stories from Abroad Scholarship and a member of the BC Study Abroad Writer in Residence Team
Image credit: Vancouver artist Kenneth Yuan in front of Yves Klein's IKB (image courtesy of Yuen)
My piece of advice as a Writer-in-Residence is this: wherever you go, visit the local art institutions and expect to be confused by the works. Art is a piece of history crystalized in an object. It is not supposed to be easily understood. And if it is, it's probably very bad art.
Good art takes a lot of time to unpack. I used to abhor paintings that are of one color such as Yves Klein's blue painting IKB 3 (1960). "What was the point of that?! I can do that and call myself an artist." First, no I can't. Second, even if I can paint a blue monochrome, I could not have achieved what Klein achieved with his. The entire trajectory of his career, the institutions and discourses he activated, is all part of the brilliance of his work. His legacy, ironically, was both a critique and a testament to everything that is voodoo about art. But in its dualistic negotiation, Klein, consequently, became non-farcical.
So do not be fearful of that debilitating sense of perplexity one may experience when looking at art.  Good art opens onto a field of free associative thoughts that, only in the rarest of occasions, can be harnessed into a coherent understanding. Unpacking art takes decades of devotional labor. If you walk into a gallery expecting to understand what you are looking at, you are being too hard on yourself.