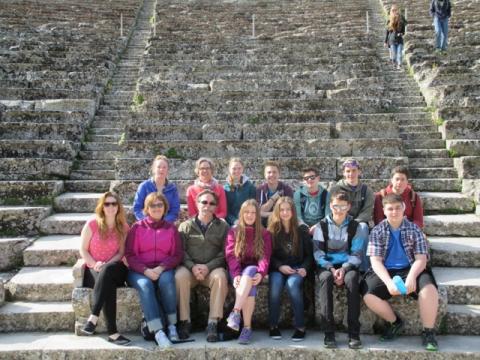 On March 12, 11 students, one mom and two teacher chaperones from Ballenas Secondary School in Parksville flew from Nanaimo to Vancouver to Frankfurt to Athens, Greece for a 12 day tour with EF. We visited Athens, Delphi, Olympia, Epidauros, Mycenae, Nafplio, Cape Sunio. We took a day cruise in the Saronic Gulf and visited Hydra ( a beautiful island where there are no cars – if you want to go somewhere, you can go by boat, by foot or by donkey), Poros and Aegina. We also took a cruise to Mykonos, Kusadasi in Turkey (to see Ephesos), Patmos (for the Grotto of the Apocalypse), Crete (for the ruins of Knossos) and Santorini.
Highlights? You ask. Well, the answers varied. Yes, students were astounded by the Acropolis and Ephesos and Mycenae. Yes, they loved riding the donkeys up the cliff of Santorini. Yes, they were awed by the Grotto of the Apocalypse. Yes, they appreciated the food: the gelato, Greek yoghurt and honey and gyros (especially from Bairaktairos in Monastiraki in Athens) were all sources of wonder. But when asked about their own highlight, the students focused more on social things. Some were delighted by the way in which our little group became "like family". Prior to the trip, they really didn't know each other that well at all, but travel breaks down those walls fairly quickly. Others were impressed by the Greeks themselves. The students noted their pride, their friendliness, their hard work, their sense of community. Students mentioned they did not notice many of these qualities among Canadians. By the end of tour, the students didn't want to leave Greece, but they wanted to be at home. This is the best possible ending for such a trip.
At virtually every stop, the students flocked to food. They were intensely interested in the various flavours of potato chips and off different brands of chocolate. They greatly enjoyed a stop at a carpet maker in Turkey where they learned how silk is made, how carpets are made. The loved their stop at a potter where they all made clay dolls. They purchased a bewildering array of goods; most of them succumbed to the komboloi and spent much time trying to master the movement of fingers required.
Foreign travel is a dangerous thing: it can show travelers who they truly are. Both strengths and weaknesses are brought out. The students learned more about their own potential than they thought they would. They learned that there need be no shame in making a mistake, that a sense of wonder is a good thing, that listening to instructions is a life-skill. They also learned that there are three keys to successful travel: sufficient sleep, adequate hydration and regular bowels.