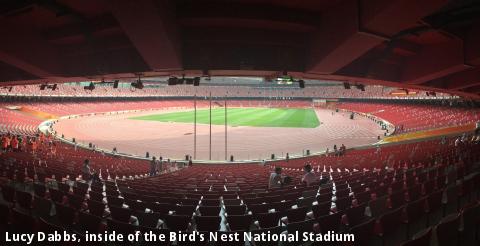 By: Lucy Dabbs, Georges P. Vanier Secondary School, participant of the 2017 Beijing International Education Exchange (BIEE) Summer Camp.
Our next stop is the Bird's Nest National Stadium, a massive outdoor stadium made of huge steel bars crisscrossing in the shape of a bird's nest, hence its name. From a distance, the supports look like mere twigs, but up close they spanned 4 feet across. This was where the Summer 2008 Olympic Games were held. Ironically enough, I am wearing my Canada shirt from the 2010 Winter Olympic Games in Vancouver.
If you're paying attention, you might notice that I'm not wearing my orange shirt today. Why not use any excuse I can to save my orange shirt for another day, and represent Canada at the same time. Wearing Canadian clothes seemed to be a good way to talk to other people from different countries. Also, I mean, neon orange. Come on people, if you really want to be able to see us why not add the fluorescent traffic stripes on our back, and that way we could look at least a little cool.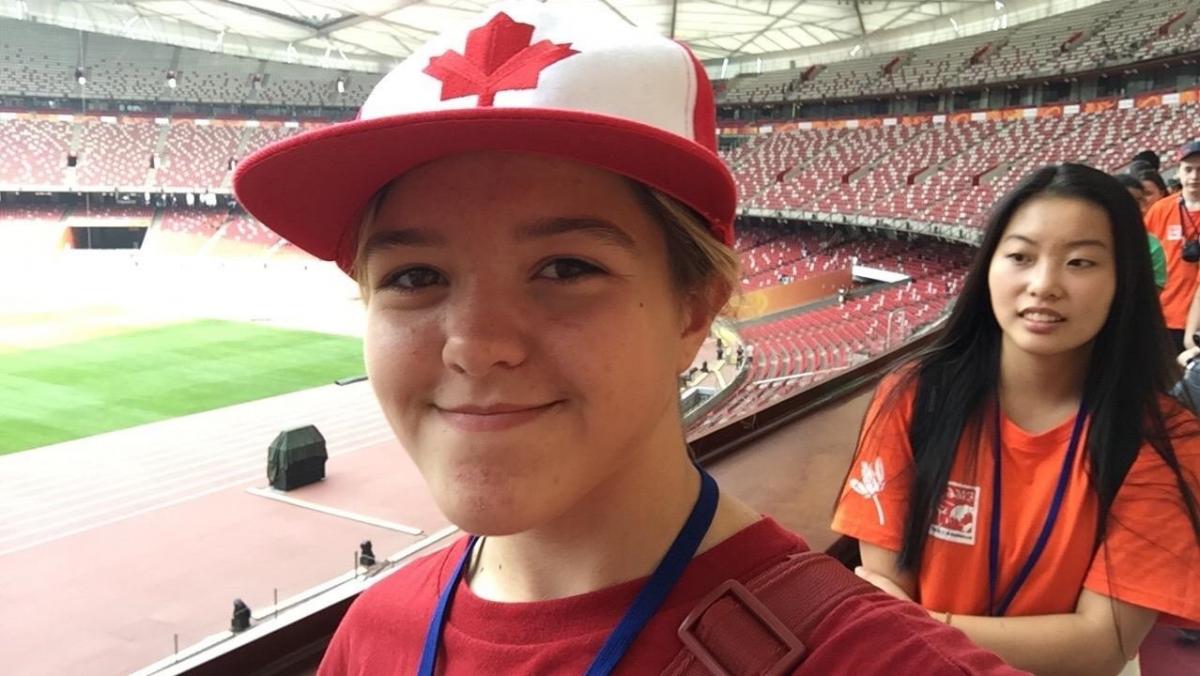 We tour around the stadium, checking out the different levels, concession stands, the basement, and even the rooms decked out with cushy, genuine silk chairs and plush carpeting. These are for important people like the prime minister to come watch sports events.
I buy an ice cream bar that resembles any regular Canadian ice cream bar until I see the inside. There are three different fillings inside, a berry, custard, and chocolate layer. It is just the boost I need to continue climbing flights of stairs in the heat. Another observation of China - the amount of stairs. I was going to have calfs of steel by the end of the week.
The entire Summer Camp gathers together in the stands to have a picture taken, one of the few places equipped to hold all of us for a photo. Then we have a friendly competition between countries, a mini version of the Olympic Games 400m event. Each country sends down a representative, and I lend my Canadian flag to Rodrigo to wear while he runs the track. It helps us track Canada as he runs alongside the other countries, everyone cheering on in the stands.
After a long day out and about, we bus back to campus and have a few hours down time after dinner.
With 777 students here, it feels very easy to let myself become anti-social, and just go unnoticed. It seemed like all the students had friends with them to hang out with, and I wondered if I would make any friends. Of course I would, the bus ride in the morning confirmed this. With 33 students, each from a different country altogether on a bus, we were able to really get to know one another in a more intimate setting. It would be different now, that it was no longer the intimate group of us representatives. I realize that I'll have to take initiative and really make an effort to meet people.