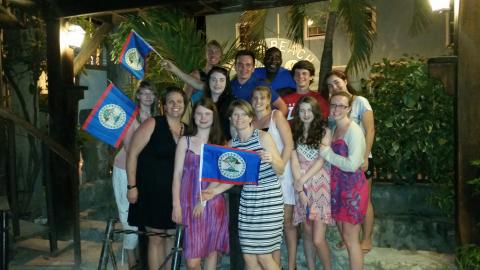 By Megan Bondurant
In a word, our trip was unbelizable. We were nine Grade 11 and 12 students from Edward Milne Community School (EMCS) traveling with our two Biology teachers to a crazy, wonderful, Central American country on a packed 8 day tour.
We literally got our feet wet on the first day traveling to the majestic ruins of Lamanai. The hour long boat ride to the Mayan ruins motored through dense jungle and unveiled monkeys, crocodiles, lush foliage and a myriad of beautiful birds. Towards the end of the boat ride, the skies darkened and our boat driver quickly threw his shoes in a small cupboard. Seconds later, we were pounded with rain so hard and loud it drowned our cries of surprise and laughter. The shower lasted only a short while but we felt like we had been dragged through the river itself. The Lamanai ruins looked as though the jungle might swallow them up again. We scrambled amongst the stones wondering at their mystery and marvelling at the majestic views.
The next few days, were a blur. We visited another Mayan historical site, Xunantunich, which was as impressive as it was impossible to pronounce. Even taller and more expansive than Lamanai we were left speechless at its magnificence. From the top of its structures we heard monkeys howl as we gazed out at the Belizean jungles and nearby Guatemalan towns. We also visited the Belize Zoo which was really an animal sanctuary. We met rescued jaguars, tapirs, margays, toucans, pelicans and even hugged a boa constrictor. We learned more about the local flora and fauna at the Chaa Creek Natural History Museum and got up close and personal with howler monkeys at a community baboon sanctuary. And for a bit of adventure, we pumped up our adrenaline zip-lining through dense jungle canopies and tested our claustrophobia river-tubing through dark caves. The tour highlight for many of us was visiting a small elementary school where we were deeply touched by the students' poverty and, yet, happiness. We spent a fun afternoon chasing, ball-throwing, skipping, running, singing and having fun with the children.
Before long, we were on a boat again. This time, however, we were travelled along the salt water coastline towards Ambergris Caye. The ocean water was an azur blue and the palm trees waved enticingly from shore. Later, the boys in our group would scramble up the trees to grab coconuts for their tasty water. We couldn't wait to snorkel amongst the marine life in the world's second largest barrier reef and we would not be disappointed by the coral, colourful fish, nurse sharks, sting rays and turtles. 
Alas, the last day in Belize came too soon and we left promising to return.