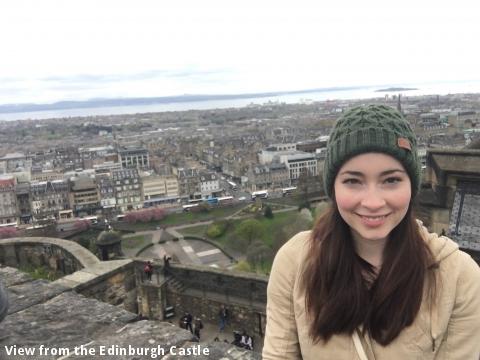 By Janna Wale, Thompson Rivers University, winner of the 2017 Stories from Abroad Scholarship.
It's been three days since I packed up my Scottish life and left for Canada. Being home feels normal and abnormal all at once. It feels strange (yet familiar) to be watching hockey on television again instead of rugby or football, and to hear words like 'French fries' and 'sweater' instead of 'chips' and 'jumper'.  While returning to my life at home has been an easy transition from what I left behind, retelling my adventures to my Canadian friends and family brings fond memories of my home stay hosts and the friends I left behind.
Although my study abroad was a huge learning curve that challenged me in ways I could never have dreamed, the experience was invaluable. What I am telling you is not groundbreaking or new. By throwing myself into a different culture in a different country, I was forced outside of what was comfortable and safe, into a kind of growth that can only be achieved through this experience.
A few facts about living abroad:
Things will be different. Enjoy the differences! Learn from them!
You will at some point get on the wrong bus. In fact, I caught the wrong bus at least 5 times in more than 3 different countries. I survived. You will survive.
You will miss the food you are used to, but you will also learn to really appreciate the local cuisine. While peanut butter is not a big thing in the U.K, food is such a large part of experiencing culture that I was not really missing it by the end of my exchange.
Coming home will always be bittersweet, no matter what, and that is totally okay.
Something to take away:
While studying abroad may seem daunting, it is totally and completely worth it. I hesitated to commit to my exchange until the very last minute, but looking back on my experiences has reaffirmed that the decision I made to live and study in another country for a semester was the right one. I have done so much growing in the past few months in ways that will continue to shape my Canadian life, and I am so thankful for the people I met along the way. I was able to do something I never thought I would be able to do, and if I can give you one piece of advice, it would be to "just go for it".
"Strength doesn't come from what you can do easily, it comes from accomplishing the things that you once thought you couldn't." – Rikki Rogers