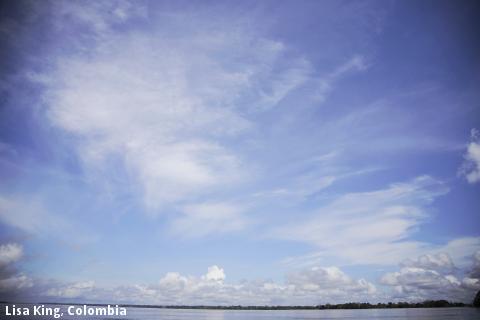 Has it really been a year already? I travelled to Colombia last May and immersed myself for two weeks in its brilliant culture. My study abroad trip took me up into the crisp aired mountains of Bogota and down into the sweltering heat of the Amazon. Our days were packed full of excursions, and while I trekked from one wonder to another, I tried to take in as much as I could of my environment. Time flew by so fast. Not only was this my first time on a study abroad program, but it was a chance for me to earn the last credits I needed for graduation.
But what now? Let me say that the Amazon: its people, trees, animals, beautiful air, and water became a part of me. It courses through my veins and fuels my dreams. I received the best, fleeting, taste of paradise that money couldn't buy. I met people; I got to know them and experienced the Amazon through their eyes, seeing the way they live every day. Learning solely through books has its place, but actually getting out and experiencing the world is a whole different level. When you physically see the vast skies over the river, when you smell the dirt, flowers and trees after a downpour, when you taste the local food and see the smiles of its people; that's absorbing knowledge.
I look back at my academic career and am grateful for all the courses I was able to take, but one thing that strikes me the most is that I wish I had gone abroad more. I, like many people, got stuck on the price tag of these adventures. I know some even think it's financially irresponsible to travel for school. If you want it badly enough, and you believe whole-heartedly that you are meant to go and learn elsewhere, the funding will come. Trust me, it takes effort, but I received multiple scholarships and bursaries for my trip. I poured out my enthusiasm at every interaction, and even the most skeptical of skeptics eventually got on board with me. My advice to you is to take advantage of opportunities and believe in yourself. Talk to people who have gone and let their infectious positivity inspire you.
I was told my experience would change me. I didn't believe it at first, but it did. I am writing more, reflecting and taking time to acknowledge what makes me tick. I am less fearful of taking adventurous leaps. I will return to the Amazon soon, for a longer period of time, to continue discovering and documenting. I will continue to apply for grants, continue writing blog posts and telling stories about my experience.
I fell in love with Colombia; I guess you could fall in love with a textbook but what's the fun in that.
By: Lisa King, a member of BCSA Writers in Residence team and former stories abroad scholarship recipient. Lisa is currently working as a photojournalist and is one of the most recent graduates of Kwantlen Polytechnic University in the Bachelor of Arts General Studies program. Her study focuses were in Fine Art, Creative Writing, Geography and Sociology.