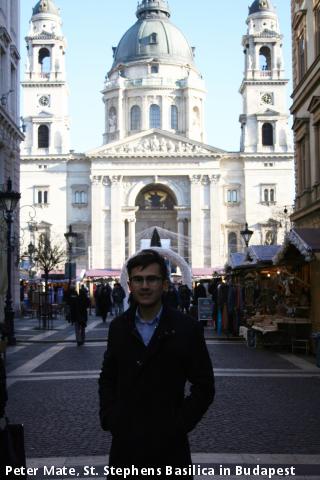 By Peter Mate, Fairleigh Dickinson University, Vancouver Campus, winner of the 2017 Stories from Abroad Scholarship.
Living away from home reorients outward perspectives: friendships blossom, the world changes colour, and ideas change. By reorienting perspectives the world shrinks: dialects between regions are now recognizable; cultures between cities become evident; you recognize ideologies that engulf countries. These differences create a tapestry of beliefs and cultures that you – the explorer – observe.
But there's more: you may find yourself often alone; however, loneliness is the most profound feeling any international student encounters. Moments of solitude while walking down grand boulevards or university halls intensify experiences. Intense experiences last the longest because they're branded into your memory. These moments burn into your mind because you experience them without the distraction of others.
When I leave Central European University's campus at night, I stand on the shores of the Danube and watch the water reflect the light of Buda's castle. I take this time to contemplate: while boats sail past, I think about my hopes; perhaps a bird will coast into view and I'll be reminded of home. During these moments, I feel a lightness that melts all worry. I take these moments in when I have a chance; between studying and volunteering I have little time to sit – to reflect.
I'm not advocating for you – the explorer – to seek solitude. Friendships made create lifetime connections. One of my favourite expressions is "if you need a place to stay, never hesitate to call". However, we explorers should occasionally take time to observe our surroundings. When we observe the world around us we can contemplate, thereby making our experience more endearing. Contemplation is best achieved alone when you are most exposed to the environment.
The most wonderful feeling is exploring an alien world without the inhibitions of being in a group. Never worry about being alone during your travels – you'll discover that you yourself are the best company.