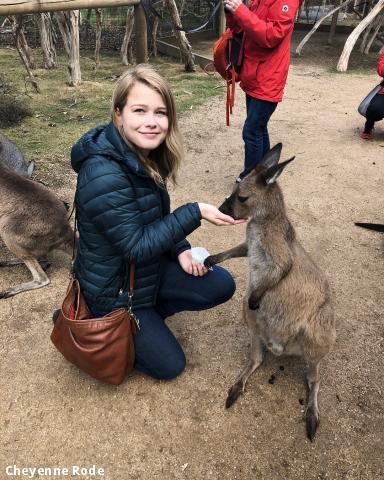 By Cheyenne Rode, Vancouver Island University, winner of the BC Study Abroad: Stories from Abroad Scholarship
Study Abroad Destination: Melbourne, Australia
Now that I am back from my exchange, looking back it's almost like it was a dream. Although this is my second exchange, I still can't believe how lucky I am to have been able to go on a trip like this. After being back, I was stumped about what I should write about as there are so many stories I would love to share to give insight/help those lucky people who have a trip like this in front of them. What I came up with are budgeting tips. Budgeting was one of the hardest aspects of my exchange, especially being in Australia where everything is practically double. Spoiler alert, I went over my budget. That being said, I wanted to share a few budgeting tips regarding my experiences (and mistakes) to assist those starting their trip to help them not go over.
Make a weekly budget (and stick to it!) - This one was really hard for me I found. There always seemed to be an activity that put me over my budget that I thought was a once in a lifetime experience and I might not be able to do again. To fix this problem, near the end of my exchange I made a "contingency" budget. Meaning I would have my regular weekly budget plus a little extra to the side I could use for special activities. If I didn't use that money for one week it would roll over to the next week.
Pay as much as you can in advance - When taking trips across Australia I soon realized that excursions made up the majority of my costs. Be aware that sought after tourist activities such as diving or snorkelling to the Great Barrier Reef can cost up to as much as $300. To help with these unexpected costs, I started doing research before my trips and figuring out exactly what excursions I wanted to do. If you can book all your excursions through a hostel in a package you can usually score a pretty good deal.
Eating out all the time is unpractical - Some of my friends call me a foodie and I was saddened to realize that eating out often ruined my budget. Personally, I think that eating nice meals in local restaurants is an important part of traveling. Unfortunately, it is very unwise to do all the time. To satisfy the foodie in me but also be nice to my wallet, I made myself a limit of only eating out once a week when at school and once a day while on short trips. This I found to be much more sustainable but I was still able to treat myself to a nice meal here and there.