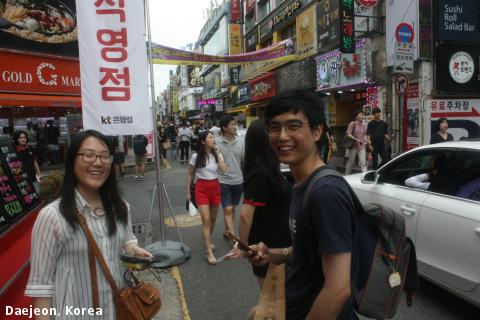 By: Aaron Siebenga, Simon Fraser University, winner of the BC Study Abroad: Stories from Abroad Scholarship
Study Abroad Destination: South Korea
This entire trip can really be divided into two parallel trips, which I'll write one blog post each on. I'm studying at KAIST Monday to Thursday, and travelling around Thursday through Sunday. I've been having a lot of fun learning at KAIST, as there's several classes here that don't exist at my home university (as well as a few graduate-level courses that the professors were kind enough to let me sit in on).
Since I'm taking 7 classes and have Fridays off, my weekdays have been pretty busy. That said, I have gotten up to a few adventures with the friends I've made here. One time back in August, my KAIST buddy group went into Daejeon to look around and try some Korean food. Unfortunately, the weather for the first couple weeks was either extremely wet or brutally hot (hooray typhoons!), so we didn't get to see much on that trip. I've also made quite a few friends on campus among the Pokemon Go community, thanks to me bringing a bunch of North America-exclusive Pokemon to trade. Most of them are Koreans, but I've also made a couple of Finnish exchange student friends (Erik and Juho). Finally, Dan (my Polish roommate) and I shared the suffering when our dorm decided to turn off the air conditioning to 'save energy' even though it was still >30C outside, and we often talk about what we've been up to academically and culturally.
I haven't really experienced a lot of culture shock due to my experiences with one of my best friends back home (as he's Korean), but I wasn't prepared for how little English there is. He told me that almost everyone in Korea speaks English to some degree, but I've found the opposite; almost no one speaks English very well outside the university. I would take a Korean class while I'm here, but I took French for 9 years in grade school and didn't really learn much so I doubt I'll pick up much Korean in 4 months. From what Dan's been telling me, it sounds like I dodged a bullet as the professor teaching him Korean can't speak any English and he's not making any headway. Besides, I've been getting along alright with translators, though ordering food is still pretty difficult. It definitely makes me appreciate how hard it is for immigrants back home to adjust to a new language.