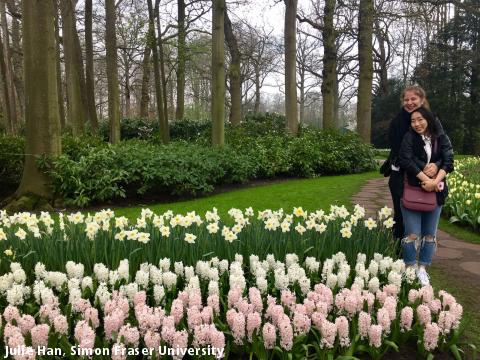 By: Julie Han, Simon Fraser University, winner of the BC Study Abroad: Stories from Abroad Scholarship
Study Abroad Destination: Amsterdam, The Netherlands
I was genuinely surprised how quickly my life fell into the rhythm here in Amsterdam. Although, it took a significant amount of effort to start falling in the right direction. Outside of classes, I began fencing again and joined the student club, which luckily happened to be just down the road. I used to be a competitive fencer, but I quit after secondary school for some very long and complicated reasons. Another essential element of my life here in Amsterdam was Louise, a German exchange student who lived at the other end of the hall. Louise became my favourite person in Amsterdam.
Louise is tall, or at least taller than me; note: I fit comfortably in a large suitcase. She is extremely quick-witted, morally consistent, and hyper-rational – a proud, self-pronounced German stereotype. After an early encounter at our academic introduction, we quickly attached ourselves to each other. In addition to some very Dutch activities, at least once a week Louise and I ate dinner together, eventually forming some sort of informal dinner club. It was very exclusive. Dress code: formal sweatpants required.
Towards the end of our exchange, Louise and I were cooking dinner in my room. I said, "I actually had to make a detour to go to Albert Heijn today, because Lidl didn't have Farfalle, and I thought you would be bothered by the incongruent pasta shapes." Albert Heijn is the major grocery store chain in Holland; Lidl is the discount store, which was our preferred. Louise dropped the onion, turned to me, grabbed me by the shoulders, and whispered: "finally, someone who understands." This is a pretty accurate picture of Louise.
Aside from the ordinary – but necessary – autobiographies and daily debriefs, Louise and I spent most of our time deciphering stereotypes. Actually, the reason I went to Europe rather than Asia was to enter a cultural and social environment completely foreign to me. The catch was it wasn't completely foreign to me. And the general consensus among Canadians and Europeans was that the Americans were the most unfamiliar. While understanding the presence of universalities that transcend your experiences, it's necessary to actually engage in meaningful relationships. It's a necessary skill that needs to be learned. It took time for me to learn the relevance of Louise to her environment, which allowed me to assume her aversion to incongruent pasta shapes.