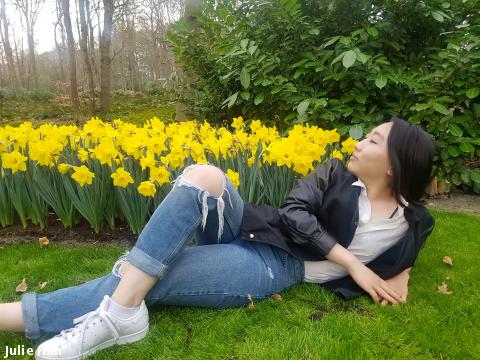 By: Julie Han, Simon Fraser University, winner of the BC Study Abroad: Stories from Abroad Scholarship
Study Abroad Destination: Amsterdam, The Netherlands
Two weeks before my return, I sent my parents a list of foods I expect waiting for me either at home or in the car as soon as my feet touch Canadian soil. Demanding? Yes. Necessary? Yes. Of course, I missed my parents, my friends, and my dog. And of course, I miss my friends in Amsterdam, as well as the cheap beverages. But, in the past 72 hours, I've managed to eat myself into a pretty impressive food coma while staring at big beautiful mountains and breathing in fresh West Coast air. As soon as that panicking feeling every couple of minutes that I don't remember where I parked my bike, I think I will be fully adjusted – mainly because of the food. I really missed the food.
Although I'm beyond happy to be back in Vancouver, I absolutely enjoyed my time in Amsterdam. I learned how to ride a bike aggressively and what real bread tastes like. I also learned how to be more self-sufficient, practically and emotionally too. I made a difficult choice to stay at home for university for financial reasons, and during that time I have to admit I felt like I was rotting away in Vancouver, or rather Coquitlam. I like to tell people I felt like an ingrown toenail, painful and falling apart. Honestly, I had developed some pretty unhealthy emotions to compensate for that anxiety from staying at home. I never left the house aside from school and work. I kept, and also made some new, toxic relationships.
But being abroad – and more importantly, alone – has let me come home feeling excited, not just for the food. Being abroad has made me unmentionably proud about being a Canadian and a Vancouverite, and more aware of my community and the challenges we face. Throughout my exchange, I have been able to really reflect upon how to thoroughly embrace my active choices over my own life while accepting the maybe more static realities. The big lesson coming back from Amsterdam is just because I didn't move away doesn't mean I shouldn't move on.