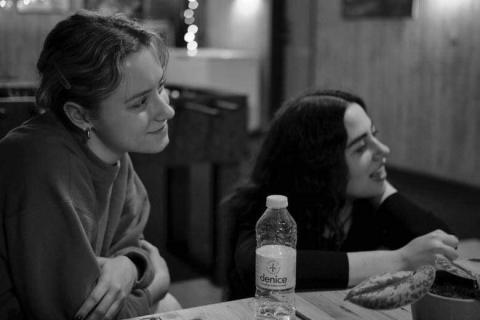 By: Sophia Berezowski, Capilano University, winner of the Fall 2021 BC Study Abroad: Stories from Abroad Scholarship
Study Abroad Destination: Aarhus, Denmark
I've been waiting to move out of the home that has raised me as the person I am today for what feels like forever. I don't mean this in a scornful way; I love where I live very much and am forever grateful for the life I have cultivated in cozy Deep Cove.
There's something that most young people, I think, yearn for though. It's a desire so much bigger than ourselves to create our own life completely independently and see what we can find when the whole world opens up to us.
This is how I felt when I found out I was going abroad to Aarhus, and then again when I arrived. Quite frankly, I get that feeling over and over again everyday living here. It's a wonderful and endless cycle of gratitude that overruns everyday stresses and anxieties - because I'm actually here.
I wondered how it would be and how I would feel when I arrived, never living away from my friends and family. The first week was rough, I'll be honest. But with such a huge adjustment as this one, how could it not be? The whirlwind of moving in, meeting the strangers that became "my people", and running around a brand new city in a brand new culture was instantly one of the most incredible and terrifying things I've ever experienced. My first week here whipped me off of my feet and sent me crashing down, at least temporarily.
I've been living in Aarhus for a month now, though it feels like almost no time has passed at all. I've already learned so much about myself and I am truly so excited because I'm confident that my growth isn't going to stop. The first few weeks taught me that I am much more independent and capable than I would've ever expected. I found that settling into a consistent routine is one of the best things you can do for yourself and your peace of mind. I haven't been unemployed since I was 16, and I never realized how exciting it is to have this newfound free time. I get to be creative in school everyday and then spend my extra hours exploring my creativity through cooking, writing, reading, and discovering what Aarhus and its people truly have to offer.
I'm already aware that deciding to go abroad was one of the best decisions I could've made for myself in this time of my life, and I'm not even halfway through. I'm learning who I really am as a young adult. I'm getting down to the essence of who I want to be, and I couldn't be enjoying myself, or Aarhus, any more.