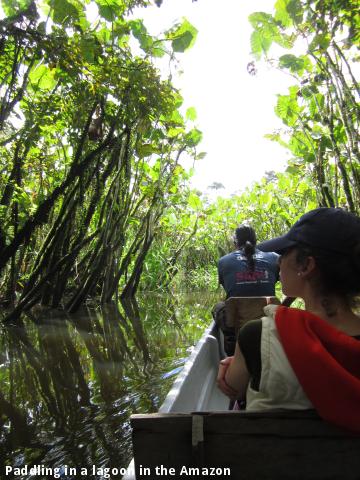 By Kathleen Megan Harfman, College of New Caledonia, winner of the 2017 Stories from Abroad Scholarship.
I have officially returned from Ecuador. Wow, what an experience! I learned a lot and saw so much. My favorite part of the entire Study Abroad adventure was staying at Sani Lodge in the Amazonian jungle. This place is a community run ecotourism lodge. To get there we flew into a city called Coca, then travelled by boat for almost three hours down the Napo River. After docking, we hiked a short trail to a canoe, where we paddled across a lagoon to the lodge. Every day we went hiking and paddling with a local guide to observe and learn about native flora and fauna, their interaction with one another, native uses, and importance. We saw various species of monkeys, as well as caimans, wild pig, deer, and a host of various bird and insect species. Sani also has an observation platform built 36m above ground at the top of a big tree. From there we could look out over the jungle and observe many different birds including toucans, parrots, parakeets, and an owl.
During our stay at Sani, we visited the community that operates the lodge. Members of the community greeted us upon our arrival and their women's club performed a cultural dance. They then passed around a traditional fermented drink in a bowl as a sign of welcome. Afterwards, we visited the community gardens and interpretation center, where they prepared a traditional meal for us. It included piranha and heart of palm cooked in banana leaf, plantain, and big roasted grubs. It was delicious! I'll admit the grub was a little hard to swallow, but it tasted a lot like bacon, so that helped!
Overall, the trip was a successful and enjoyable learning experience. By exploring the Ecuadorean ecosystems, I have gained a greater understanding and respect for the interconnectedness of species and the importance of symbiotic relationships. Even the smallest and most insignificant creature can play a vital role in the health of an ecosystem. We really need to be careful when modifying the environment because our actions can have big impact.
In closing, I want to encourage other students out there to grab hold of travel opportunity. While every experience may not be perfect, each one gives you the chance to learn and grow. Stepping out of your everyday box is challenging, but rewarding!