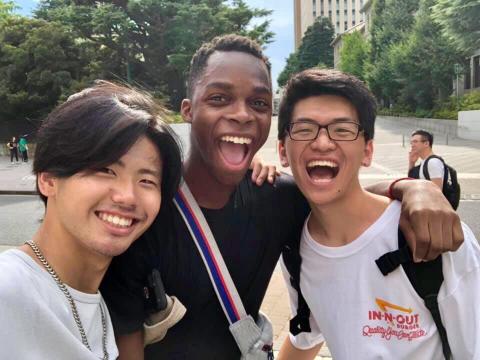 By: Bob Emmanuel Mulamba​, Simon Fraser University, winner of the BC Study Abroad: Stories from Abroad Scholarship
Study Abroad Destination: Tokyo, Japan
The importance of defining your own journey during the exchange term comes at an advantage. I've learned that by experience alone. It came to me by surprise when I started to realize that most of my outings in Tokyo and the things I ostensibly wanted to do, had been set by others and not myself. And in realizing this, I came to understand the meaning of "defining my own journey". But what does it mean to "define your journey"?
Simply put, it means aiming for a purpose or a goal that will not only solidify your exchange term but also help heighten those new experiences.
The purpose or goal that you set for yourself does not necessarily have to be concrete or even make sense. For example, one of the goals I had for myself was to speak as much Japanese as I possibly could during my time spent in Japan. But how do I do that? I remember walking into my dorm kitchen and telling people that "I want to have a part-time job in Japan", since I thought that speaking Japanese for a couple of hours a day to strangers will help improve my Japanese. To my surprise, most of them said things like "why would you ever do that?" adding in "you should enjoy your time in Japan". In all honesty, they probably meant well, but it only discouraged me. But I continued forward, and an opportunity to get a part-time job came to me. This small step then gave me the confidence to start speaking with Japanese students at the Waseda University through club activities and I have come to make friendships that I believe will last me a lifetime. This small story serves as an example as to what "defining your journey" means. Allow yourself to be taken away by the moment. Make those spontaneous decisions as it will often lead to some of the most memorable and impactful experiences for yourself. So, on your exchange term, on your journey, be sure to enjoy every day as it comes by and take advantage of each opportunity that allows you to get closer to the goals you've set for yourself.