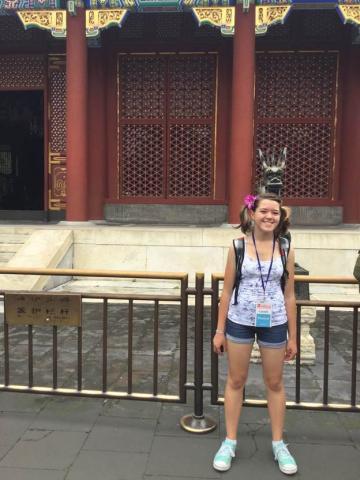 By: Lucy Dabbs, Georges P. Vanier Secondary School, participant of the 2017 Beijing International Education Exchange (BIEE) Summer Camp.
On the bus ride home I was in need of a distraction to take my mind off horrible visions of myself at 80, showing my grandchildren my antique fidget spinners collection now taking over my house, dust-ridden spinners causing my single cat to sneeze with distaste. As had been on our previous bus rides, Jack offered open mic to anyone willing to entertain us during the long hours. I took my sudden need of a distraction to be brave and share my geeky side with the fellow students.
Smiling mischievously I read from the screen of my iPod, reciting the Periodic Table song (unfortunately I'm not cool enough to have it memorized). I managed to get halfway through before, out of breath, I admitted that I couldn't even pronounce the names of these obscure elements with atomic numbers in the nineties. It was fun though, and I felt good to be a part of the strange and amusing time on the microphone. I spent the rest of the bus ride singing along to the popular Chinese songs karaoke-style, lead by various Chinese students. Some popular western music was also shared, and a duo of the Titanic "my heart will go on", played on a wooden flute obtained from the Bangladesh students.
We arrived at the school after a long day and slumped into the cafeteria seats where we ate rice for the seventh day in a row. The fun was not over yet, though. No matter how tired I might have felt, I wasn't going to miss another night on the track field. Shortly after seven o'clock, I found myself sitting on the bleachers with the BC crew. We laughed about the funny moments on the bus and discussed who was going to drop from heat stroke first.
It began to rain and we dispersed. I migrated over onto the balcony where a group of European students were playing a card game of some sort. I introduced myself and watched with two guys, who I learned was 17. One was from Poland and the other Finland. A consensus was reached by the group playing cards that we should learn a Belgian dance. We moved onto the field and danced in the rain, learning a complex combo of some upbeat version of the waltz.
At around nine thirty I migrated groups again, to join the salsa dancing group. Here were some of my Argentinian friends I recognized, speaking Spanish with other South American countries and the Spaniards. Polenche, a classy dude with nicely styled hair and a Spanish accent fit for Hollywood, elected himself the teacher of the salsa. No one argued as he demonstrated the basic steps he was clearly very well practised and passionate to instruct.
Through the darkness, I found a partner and we followed the moves, gradually learning the beginning of the salsa. Some Spanish guys stood around and chatted. They recognized me as the "girl who wore Canadian hats". It was true, all week I'd been wearing Canadian apparel and I even tied the dollar store Canadian flag around my shoulders when I hung out in the field. It was a way of having people know where I was from, and apparently a conversation starter too.
At 10:50 the lights flashed as a warning that curfew was in 10 minutes. I walked back to the dorm room that night, salsa music still ringing in my ears.