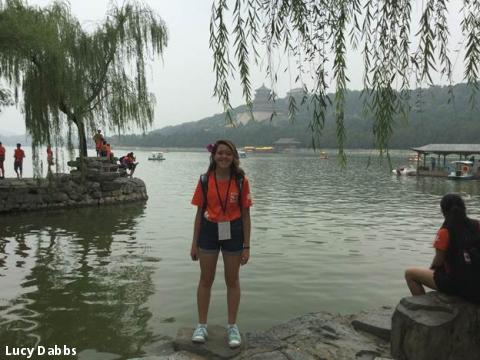 By: Lucy Dabbs, Georges P. Vanier Secondary School, participant of the 2017 Beijing International Education Exchange (BIEE) Summer Camp.
As a little kid I used to create menus, usually for my dream restaurant that would serve every one of my favourite foods, from Mac and cheese to Nanaimo bars. These menus were written in different coloured markers, under the category of lunch breakfast, dinner, and dessert. On the dessert menu, of all the possible ice cream flavours I could have desired, green bean was not the first that came to mind. It wasn't even the forty fifth I thought of. However, here in the summer palace of Beijing, I wonder why I had never thought of it. Of course it would be a great ice cream flavour! China has thought of everything I realized, from the moments throughout the week where I had sampled ice cream flavours from the various food stands I had snuck away to during our tours.
Green bean ice cream bars were not the only great thing about the Summer Palace, though. This was one of the places I hadn't visited during my previous trip to Beijing. I wondered why, because it was like a private little city outside of the hustle and bustle of the busy streets lined with bikes and watermelon vendors. Within these ancient, stone walls lay the emperor's summer palace, a village of temples hidden among the hills of a lake he had literally built to cool down during the summer months.
Elegant weeping willow trees hung over the calm waters of the lake, over which the surface glided self-powered boats. Some of these boats were designed to hold 10-12 visitors, and were operated on a bicycle like fashion with a pedal that turned the propeller wheel.
Along the lake were roads and walkways, and balconies of temples and buildings. Within these buildings were boardwalks, benches, and open squares. I imagined villagers, family members, and servers to the emperor gathering in these squares for receptions, or passing through for their daily business.In addition to the maze of buildings, there were a few shops recently set up, with beverages and snacks. Today was a particularly hot day, and I had already sampled the coconut milk, and mango ice cream bars when I had encountered the green bean flavour.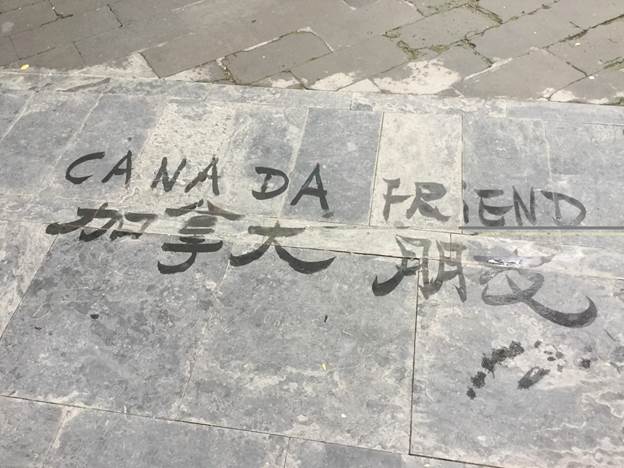 I was touring around with a friend from BC and a local teacher from the camp, Jenny, who was explaining to us the history behind some of the statues and carvings. The camp had released us in groups for forty five minutes to explore.
We met a man who was painting Chinese characters on the tiles of a walkway, using a sponge on a long stick soaked in water. We talked to him and he wrote "Canada friend" in English, and Chinese below. It was very neat to be able to communicate with someone from halfway around the world, and acknowledge that we were both from such different backgrounds. Yet here we were, facing one another and realizing how cool it is to be friendly, standing in a place where 1000 years ago there was no communication between our cultures.
After we'd said bye to our new acquaintance, and filled ourselves with more ice cream flavours that were on one of my menus, our groups rounded up to leave. The next stop, after lunch, was the silk market.