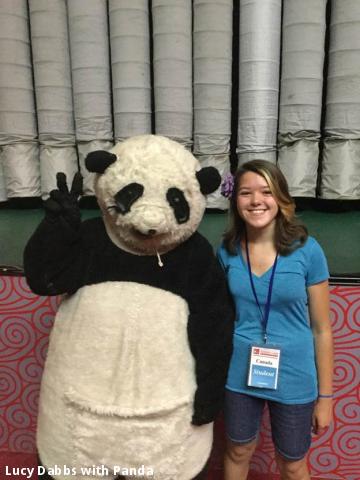 By: Lucy Dabbs, Georges P. Vanier Secondary School, participant of the 2017 Beijing International Education Exchange (BIEE) Summer Camp.
Sleep deprivation is something most teenagers experience at some point in their years, usually during the school year when procrastination is common and getting homework done early is not. We stay up late on our phones with no regard to how we're going to feel the next day, because we know we have the weekend to sleep in and stock up on sleep.
At the Beijing Royal School, it is like being on school time, the schedule fills every hour of the day. We go to sleep late and get up early, especially on the days we have outings. By the time Day 6 comes, we are all pretty run down, tired of cafeteria food and tired of the heat and tired in general. This does not stop me from making sure I am getting the most out of every day, though.
We start the day's field trip going to a Kung Fu show and I meet some crazy pandas, and of course get a selfie with them. Then we take a stroll through the Hutong district, passing ancient buildings home to families from different dynasties. I admire the man-made lake and the aesthetic weeping willows reflecting in the still water.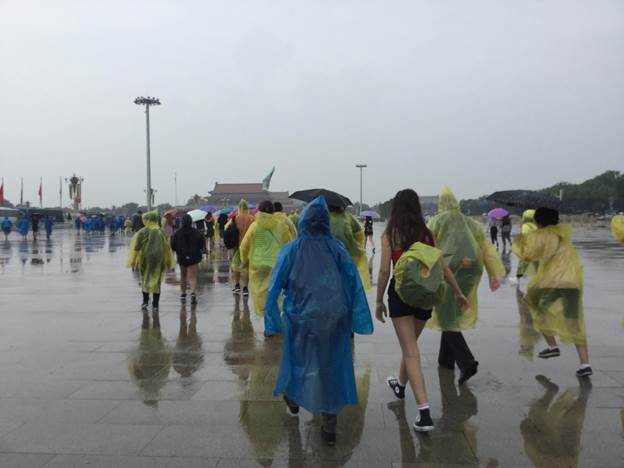 Now here we all are on the bus, half asleep and not paying attention when all of a sudden Jack comes down the aisle tossing ponchos left and right.
"Alright everyone, put these on! I would like to see you wearing your ponchos, it is very rainy outside today!"
There's nothing quite like waking up from a bus ride sleep to a giant yellow poncho in your lap, and raindrops pummelling the window outside. It's interesting because the bus is cool and air-conditioned, so when I see the rain outside I expect the air to be about the same temperature as the cool bus. But when I step off the bus it is hot and humid, despite the rain. Now I am wet too. It's quite alien to me, to have very warm rain. In BC we're used to the rain, but it's usually refreshing and cool.
We all dress up in our ponchos, becoming a group of tourists wearing colourful garbage bags with hoods. During the walk along the streets to Tiananmen square, I feel like I'm in a greenhouse, sweating within the confines of the thin plastic sticking to my skin. Have I ever mentioned how much people sweat during this trip? And it's not just us, the locals are often walking around with no shirts, fanning themselves, or simply sitting down and succumbing to the sun hidden above the thick grey sky.