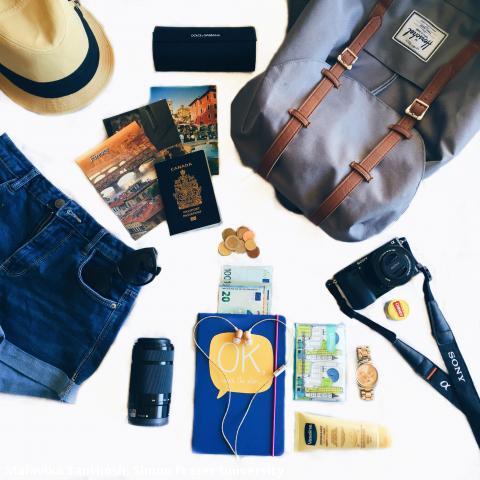 Time: 8:20 PM
Location: Vancouver
Setting: An array of black hangers cover the floor, surrounding a beat down suitcase - spread open and decorated from scratches to stickers, representing its lifetime of travels.  In the corner stands a bed with a layer of garments messily thrown into piles of "Maybe", and "Definitely Not".  Amidst the chaos sits a twenty-something girl, in awe of her ability to fit her entire life into one luggage which she then has to live out of for the next four months. A hint of nervousness and a whole lot of excitement fills the air.
Tomorrow is the long-awaited day. The day she steps on a flight leaving behind all things familiar to a land of unknown, some 5,000 miles away; destination - Milano, Italy.  
She felt uncertain about what to expect, and many questions ran through her mind:
"How will I adjust to the Italian culture"?
"Will I overcome the language barrier"?
"What if I don't make any friends"?
But she gathered comfort from the many stories, advice, and study abroad experiences shared by her friends.
She was, however, sure of a few things. She would undoubtedly:
Indulge in the carb-y goodness (that is Italian cuisine) and devour a whole lot of pizza, pasta, bread, gelato, and everything else that Italy has to offer.
Connect with incredible people from around the world, create memories and share experiences with them.
Get lost in the narrow cobblestone streets, discovering new sites along the way.
Make a complete fool of herself with her pitiful attempts at speaking Italian.
Cross off a ton of European cities, landmarks and experiences that are long overdue from her extensive travel bucket list.
And with that thought, she (struggled to) zip up her belongings, certain that she would return with much more than an overfilled suitcase, but also priceless memories involving new friends and experiences in foreign cities that would last a lifetime.
By: Malavika Santhosh, Simon Fraser University. Winner of the 2016 Stories from Abroad: British Columbia Study Abroad Scholarship.