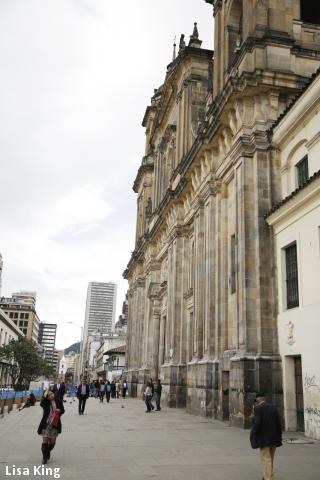 I have been in Bogota for four days, and I cannot get enough of this city. The people, the view, the Spanish language and the food are incredible. Let me tell you a little bit about what I have seen so far.
Let's start with the architecture. In Canada, I find the architecture to be plain, old Canadian architecture. Perhaps it is because we are a young country, but I find in comparison to other places in the world, it lacks variety.
Every district of Bogota has a different style. Colourful housing, buildings inspired by various countries in Europe from the days of the Spanish invasion, huge brick buildings with unique shapes; it really is a plethora of eye candy and thus a photographer's dream. The first thing I noticed when I got off the airplane was the amount of graffiti on the walls of overpasses and buildings, some of which were covered with huge, gorgeous murals. It makes me gawk in awe.
So far, Colombia has welcomed me with open arms. It is hard when you only know broken Spanish and are trying to speak to people with little to no English. I keep getting my Spanish mixed up with my French and then correct it with English, and it really does turn into quite a hilarious conversation. Tourism is not a strong industry here, so we are definitely noticed when we are walking around. It is important to remember, however, that like in any city, especially one with eight million people, that personal safety is something to be aware of. There were multiple times during our city walks, when I was told to put my camera away by the police or my guide. This is where travelling in an educational group with the right supports in place is worth its weight in gold.
The food and fruit here is totally exotic. I have eaten fruit that I did not even know existed. All the food markets we have gone to are hyper local, and the country prides itself on that. I was shocked when I found out Colombian food is not prepared in a spicy way at all. Sauces are served with mostly every dish, so if you want to turn up the heat just taste a small amount and your mouth will pucker with excitement. I am a diehard spicy food lover, and these sauces really make an impact. I am very impressed and look forward to tasting the indigenous food in the Amazon on Friday.
Tomorrow, we are up at 5 a.m. and flying to Leticia, the gateway of the Amazon. Here the climate will change from Bogota's balmy, Vancouver-like weather to hot and humid. Bogota is very high up so the temperatures remain fairly cool. The heat of the Amazon will be a challenge for my body, mind and my electronics. I say bring it on!
I recommend visiting South America; Colombia in particular. It is the second largest bio-diverse country in the world and contains so many different regions. It is important to understand what the Amazon really is, how it directly affects every human on the Earth and how to protect it. Colombian's are very proud of their country and are, from what I can see, trying really hard to conserve the remaining habitat that is left. I have learned so much in so little time and it is only Day 4. I know that I am totally inspired and will walk away from this trip with a fiery passion for life and sustainability. This is what studying abroad is all about; the journey doesn't end when you return home, it is just the beginning.
By: Lisa King, winner of the BCSA Stories from Abroad Scholarship