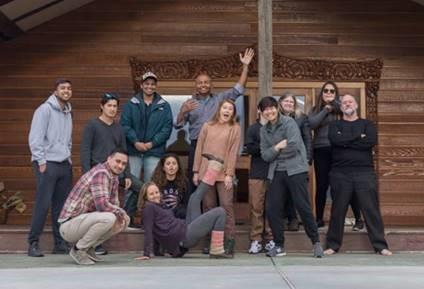 Embark on a journey to deepen your understanding of the preservation of our natural environment while broadening your intercultural awareness by discovering the unique culture of the first people of southern New Zealand – a tribe of Māori known as Kai Tahu.
Sustainability in Nature
Take the opportunity to engage with the natural environment and learn the skills to make a real difference to the future of our planet. Use evidence-based frameworks and the United Nations Sustainable Development Goals (SDGs) to plan a relevant project in your local context.
New Zealand's stunning mountains, forests and waterways are the perfect settings for a life-changing overseas experience. Enhance your awareness and deepen your knowledge of sustainability and systems thinking, that is, the ability to see everything as interconnected and interrelated.
The outdoors will become your classroom as you explore sustainability issues in the city of Dunedin. The landscape is home to incredibly diverse ecosystems and the site of a world-leading ecosanctuary with abundant wildlife. Take the opportunity to actively participate in ecological restoration and interact with local people who will share their own stories on what they are doing to make a difference. The course includes a 'journey' – a hike through some of New Zealand's most beautiful and untouched natural terrain.
Constructing Culture – Understanding a Bi-Cultural Perspective
Our world is a global village made up of numerous ethnic groups and diverse communities all co-existing in increasingly less-defined geographic regions. As individuals, we are increasingly aware of the difference but can be uncertain of how to understand or co-exist alongside it. This can be particularly true when interacting with First Nation peoples. First Nation peoples occupy a unique space in any global village as their cultural practices, knowledge and understanding of the world do not exist in any other place.
Embark on a course that looks at the Kai Tahu tribe's relationship with the Crown through the 'The Treaty of Waitangi' – the founding document of New Zealand. You'll also have the opportunity to engage with unique cultural experiences such as staying on a Marae, the traditional meeting house of the Māori people.
Learn about the conditions that created contemporary New Zealand society and take advantage of this opportunity to examine and reflect on your own cultural context, and the relationships in the places we share.
CREDITS:
You may be able to earn up to 2.0 GNED credits or 2.0 lower-level degree breadth elective credits by studying:
Sustainability through Nature
Constructing Culture – Understanding a Bi-Cultural Perspective
Check with your home college to see how the credits might transfer to your program.
DATE: June 1-26, 2020
PROGRAM FEE:
$4,150 NZD per person, paid directly to Otago Polytechnic.
You may be eligible for a bursary from your home institution to subsidize the cost.
Included:
Airport pickup and drop off from Dunedin, New Zealand
Accommodation mainly with New Zealand Homestay family. Also includes camping expenses
Breakfast, lunch and dinner during the program dates
Expenses for extracurricular activities and transportation for visits and transfers.
Comprehensive travel insurance for your course and travel dates.
Not Included:
Roundtrip airfare (book your own roundtrip flights)
Activity fees outside those included in the program itinerary
Incidentals, spending money
Baggage and trip cancellation insurance, if desired
Students who are not American or Canadian citizens may be required to apply for an entry visa to New Zealand
Visa to enter New Zealand
Click here for more information or contact Sarah Sellar at: