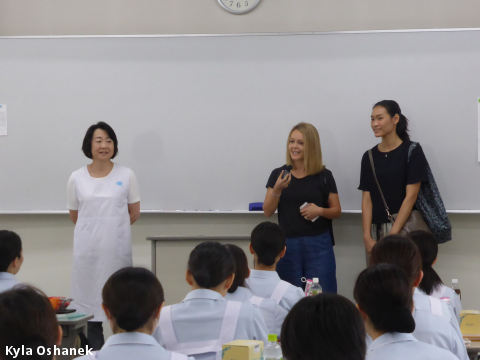 Have you heard that the majority of people fear public speaking more than they fear death? Personally, I get it. I have always dreaded the seemingly constant public speaking associated with higher education. We have all been there. From introductions on the first day of classes, to the instructor calling on you unexpectedly, or worse: class presentations.
I would never have guessed that studying abroad could play a role conquering this fear. I went to Japan without expecting to speak in front of a group, so I was surprised when, on my first day, the program leader at the school I was visiting marched me to the front of a large class, handed me a microphone and asked me to introduce myself and discuss my visit. This was totally unexpected. I gave it my best and was relieved when it was over. We left the classroom and to my horror proceeded to another class to do the same thing. After the second impromptu speaking engagement I was feeling pretty drained but was less surprised when we hit up one more large group for round three. You will never guess what happened on day two… and day three.
Almost every day of my study abroad in Japan I was asked to speak, impromptu, to groups of various sizes. And I have great news for my fellow glossophobics, this type of persistent desensitization actually helps to reduce the fear associated with public speaking. When I returned to Canada I had to give a presentation to a large group at my home institution. Before going to Japan I knew this was a requirement and I was terrified, but thanks to all the surprise public speaking in Japan, I was able to share my study abroad experiences with others. This, for me, was the greatest gift.
By: Kyla Oshanek, a member of BCSA Writers in Residence team and a former Stories from Abroad: British Columbia Study Abroad Scholarship winner. Kyla majors in Dental Hygiene at Camosun College.